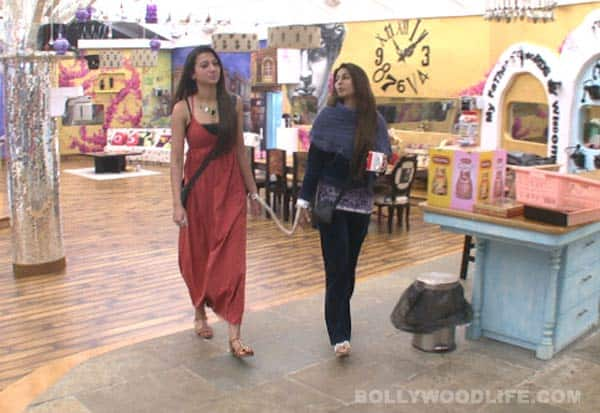 A new twist in the Bigg Boss house, arch rivals are tied together… quite literally!
The 11th week in Bigg Boss 7 and the latest entrant in the house Ajaz Khan claims that he wants to quit Bigg Boss and walk off since he cannot handle the pressure. Elli Avram comforts him and tells that everyone likes him because he's an entertainer. In order to further mend ways, VJ Andy hugs Kamya Punjabi and says that he wants to be friends with her like the old days. Kamya is pleased to hear this. Making up for lost time, Andy tells her that he is finding it difficult to survive inside the Bigg Boss house. Kamya tells Andy to be patient since the show will reach its Grand Finale in another five weeks.
The hate story: In the garden area, Armaan Kohli and Tanishaa Mukherji  are discussing nominations. Armaan states his dislike for Sofia while Tanishaa speaks about Gauahar. Armaan further calls Sofia and warns her to stop spoiling his image and maintain a safe distance from him because he is desperate to change his image.
The cry baby: Later, Gauahar and Ajaz speak about their image which is being portrayed in the outside world. While Ajaz tells Gauahar that she is gorgeous and that people love her, Gauahar appears to be worried about the extent of damage she might have caused to herself. Later, while Gauahar is playing with the baby that was gifted to Ajaz during the Children's day task, she finds out that it's a cry baby and feels excited. Andy tries to steal it and Kamya jumps on it to protect the baby the scene almost turns comical.
The new task that bonds rivals: Bigg Boss announces a new task, the 'hatkadi' task that takes a funny turn when warring contestants are handcuffed together. Kamya the captain overlooks the task. While performing the task, Ajaz finds out that Armaan has been spreading negative rumours about him. In the midst of this all, Bigg Boss makes an announcement regarding the nominations for the week. The contestants are required to enter the confession room handcuffed with their respective partners and nominate three people in conformity with each other.
The truth and revenge: After the nominations are done, Ajaz tries to confront Armaan only to be asked to bring forth the person who claims that Armaan has been speaking ill about Ajaz. At this , Ajaz asks Sofia to join him in sitting down with Armaan so that all doubts can be cleared. Armaan mentions to Ajaz that Sofia has been trying to create rifts among other contestants as well. Angered by this, Ajaz decides to join forces with Armaan and teach Sofia a lesson by taking revenge.
But will they be successful?