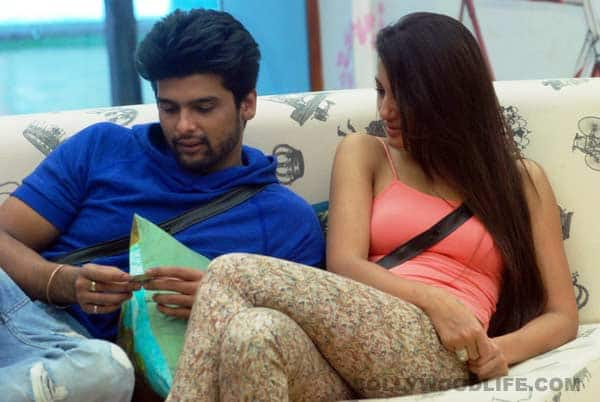 skip advertisement
Mixed feelings prevail amongst the housemates after Kushal Tandon re- enters the Bigg Boss 7 House
This is even more so since his entry is so close to the season's finale but though the competition is at its peak, Kamya Punjabi and Gauahar Khan are feeling blissful and strong after his comeback.
Armaan kisses Tanishaa
At midnight, VJ Andy tells Kamya that he likes the new Kushal but Tanishaa Mukherji disagrees and tells him to not be judgmental and wait and watch. In the meanwhile, Armaan Kohli hugs and kisses Tanishaa as his mom left a message with Kushal to kiss her and treat her like a queen. Later, Kushal makes fun of Andy over the captaincy and tells him to try his luck this week.
What is Ajaz doing?
Sangram Singh, Ajaz Khan and Sofia Hayat are seen planning the game. Andy and Ellie Avram enter the washroom to eavesdrop on their conversation. Ajaz however sees them and immediately changes the topic. The morning starts with a funny incident where Ajaz is seen hiding in the garden area and trying to get some sleep in a corner but Kamya gets hold off him and tells him to get up and follow the rules.
Kushal over-confident
Early morning Andy tells Gauahar that he's missing the lovely bond between them and he misses those funny moments and laughter that they used to have. Meanwhile, after the re-entry Kushal is even more confident and says that he has a great fan following and he will stay till the end.
Kushal reveals secrets
On the other hand, Tanishaa tells Andy that she's missing family and wants to talk to them desperately. Later, Kushal shares his experience outside the Bigg Boss house as Andy has made him the hero in the outside world. He also tells them that Tanishaa is in love with Armaan but Armaan is treating her very roughly and it seems to be very disappointing. On this, Tanishaa gets upset and wants to leave the house instantly but Kushal stops her and tells her to prove herself right and win the show. Kushal apologises to Tanishaa and tells her that he will never make the same mistake again. He feels guilty about the things that he did to Tanishaa. She appreciates that and forgives him.
Captain and Servant
Later in the show, Bigg Boss gives a letter to Tanishaa and tells her to read it out to the housemates. The letter involves the selection of two people who don't deserve to be in the grand finale. The housemates get into groups and decide two names. Bigg Boss tells her to reveal the two names. But Bigg Boss comes up with a twist that the one who wins in the voting will be the next captain and the one who loses will be the servant of the house.
The punching bag
Later, Kamya announces a task wherein the housemates have to assemble in the activity room after the buzzer rings and they will be divided into two teams. Team A has- Kushal, Kamya, Gauahar and Armaan. Team B has- Andy, Sangram, Ellie and Ajaz while Tanishaa will be monitoring the task. In the task, they have to punch the punching bag and win maximum points by hitting it hard. Sangram's team performs the best and wins the task and they are awarded with a trophy.
Ajaz in love
Later, Ajaz confesses to Kamya that he's in love with Gauahar and is feeling sad about Kushal's entry. He is upset about Kamya's ignorant and rude behaviour. Kamya tells him to be calm and solve things…
Is there a love triangle shaping up in the Bigg Boss house? Let's wait and watch as the game heads to it end!
ALSO READ: Bigg Boss 7 diaries day 67: Is VJ Andy trying to separate Armaan Kohli and Tanishaa Mukherji?