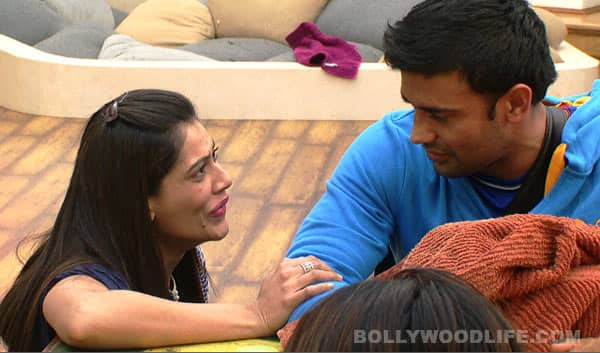 skip advertisement
It's day of tears and hugs in Bigg Boss 7 tonight
Day 74 in the house will be an eye opener for the housemates.
Andy vs Kamya
Early morning, VJ Andy is seen discussing the strategy of the previous day's task with Tanishaa Mukherji and how they managed to win it. On the other hand, Kamya Punjabi is upset with Andy and his team for being a spoilsport. Gauahar Khan and Kushal Tandon join Kamya in the discussion and decide not to cook food for the other team members. Tanishaa and Andy do not appreciate Kamya and her team's behaviour as they are taking the results of the task personally.
Gauahar troubles Tanishaa
Later, Gauahar purposely raises the topic of breakfast in front of Tanishaa and Andy to make them feel resentful. After Gauahar leaves, Armaan Kohli whispers in Tanishaa's ears that Gauahar is just trying to trouble them and they should avoid such comments. Tanishaa and Andy badmouth about Gauahar saying that she has been ill-treating Ajaz Khan ever since Kushal re-entered the house.
Remote Control
During the course of the day, Bigg Boss announces a task for the housemates called 'the remote control'. The housemates can earn additional bonus points by performing well in this. The task is divided into various steps – pause, play, fast forward and rewind. When Bigg Boss orders the housemates to pause, they have to freeze in the position they are currently in. Play mode stands for normal movements while in fast forward, the housemates have to accelerate their movements. Lastly, in the rewind mode, they have to repeat their movements. Following the orders of Bigg Boss, they have to attain different modes and continue doing it till the next order.
Andy's mom enters
Once the task is launched, the housemates break into different modes instantly following the orders of Bigg Boss. While they are performing the task and are in pause mode, Andy's mother enters from the confession room. Andy is taken aback with surprise and starts crying while his mother gives him a tight hug. Even Armaan and Ajaz burst into tears as Andy's mother kisses them on their forehead. When Bigg Boss orders Andy to get into the play, he runs and hugs his mother. Armaan then requests Bigg Boss to order play mode as he wants to touch Andy's mother's feet and seek blessing. On doing so, Armaan including other housemates run towards her and embrace her.
Ajaz rags Tanishaa, Armaan, Gauahar and Kushal
Later in the afternoon, Tanishaa spoils the meal and Armaan feels bad and leaves the place infuriated declaring that he won't have food. Tanishaa tries to convince him but in vain. She feels dreadful about Armaan's attitude and decides not to eat food either. Armaan calls Andy to resolve things but the matter gets even worse. Ajaz who is watching this drama enfold pokes fun at Tanishaa by saying that she should write a book on 101 ways to convince Armaan and for Gauahar and Kushal it should be 101 ways to love each other.
Payal Rohatgi lashes at Gauahar
In the evening, all the housemates are asked to get in the pause mode when Sangram's girlfriend Payal Rohatgi enters the house. She hugs Sangram and starts crying. She leaves a message for Gauahar that Sangram has always been fair and is a clean hearted person and she is quite hurt by Gauahar's remarks made in the show. She thanks Andy for taking care of Sangram all this while.
Dolly Bindra gives advice
While the housemates are still trying to cope up with the outflow of emotions, the loud mouth Dolly Bindra enters the house just when Bigg Boss orders them to attain the fast forward mode. She leaves a message for Ajaz saying that his movie shoot has been postponed and he breathes a sigh of relief. She further wishes everybody good luck and leaves the house.
Gauahar and Nigaar Khan have a moment
Late in the evening, Gauahar's sister Nigaar Khan enters the house. Looking at Nigaar entering, Gauahar breaks down as she feels helpless. But as Bigg Boss orders play, the sisters share a tearful moment…
ALSO READ: Bigg Boss 7 diaries day 73: Is Sofia Hayat an unfair captain?