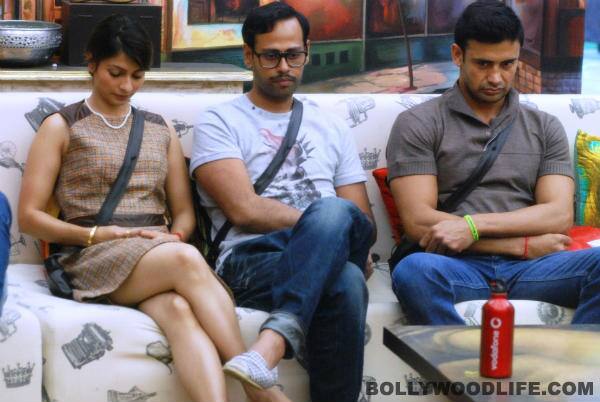 skip advertisement
The reality of life inside Bigg Boss 7 house is not very different from a daily soap opera
Day 77 and 78 witnessed love, betrayal and vengeance in the house.
Armaan is missed
Post Armaan Kohli's exit from the house, Tanishaa Mukherji was seen feeling very lonely as she sat in a corner sobbing and praying for his return. Meanwhile, Sangram Singh is seen telling her that Kushal Tandon and Ajaz Khan are quite happy with Armaan not being around.
 The triangle love story Ajaz-Gauahar-Kushal
Later in the morning, Gauahar Khan is seen asking Ajaz to share her breakfast while Ajaz is feeling awkward to do so in Kushal's presence. Gauahar still keeps on insisting but Ajaz ignores her and walks off. Gauahar's fondness for Ajaz irks Kushal who then asks Gauahar to maintain distance from him. While Gauahar gets upset with Kushal's remarks, Kushal makes an attempt to make her understand and fix the matter. But Gauahar does not show any interest in the conversation and walks away.
Armaan comes back
Further, Bigg Boss shows Armaan the footage where Ajaz, Gauahar, Kushal and Kamya Punjabi are making fun of Armaan and his irate nature. Armaan gets infuriated after watching the footage and requests Bigg Boss to allow him to go back inside the house. Soon he is called inside the confession room for the nomination procedure where he has to nominate two contestants for eviction. While the nomination procedure continues in the living room as well, Armaan appears from the confession room. On seeing Armaan, Tanishaa couldn't hold back her tears and she gives him a tight hug while all the other housemates are left stunned.
Armaan is irate again
Later in the day, Armaan is seen having an intense conversation with VJ Andy and Tanishaa where he tells them that the experience of staying in the bonus room was an eye opener for him. He admits that he has understood that Andy and Tanishaa are the only people in the house who are true to him and have always stood by him even after his exit from the house. He further confronted Kushal, Ajaz and Gauahar and told them that he is quite disappointed in them and they should part ways for the sake of sanity. Armaan endlessly thanked Bigg Boss for putting him in the secret room and showing him the true colours of the housemates.
Who is the liar – Armaan  or Kushal?
As the day progresses, Armaan and Kushal have an argument where Armaan bursts out at Kushal and tells him that he is back for vengeance and won't spare him for any wrong doings. Kushal back answers by calling Armaan a liar and also accuses him of being selfish and using other housemates for surviving in the game. While on one hand, Kushal and Armaan continue to shoot daggers at each other, Ajaz and Sofia Hayat share some romantic moments together while they sing and dance in the rain.
Bigg Boss 7 diaries day 74: Why did Payal Rohatgi lash out at Gauahar Khan?