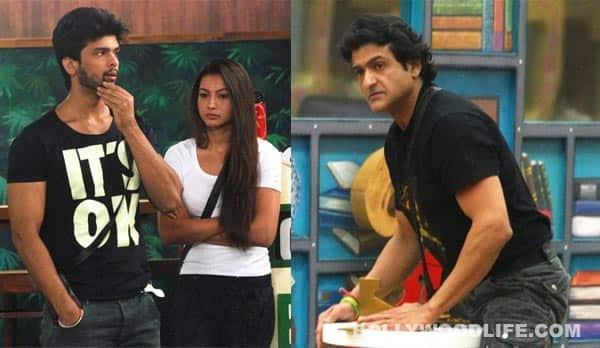 skip advertisement
Teaser-Kushal-Gauhar-Arman
Who will make it to the grand finale of Bigg Boss 7?
Bigg Boss 7 will soon reach its climax, and a winner will be declared. However with every passing day this reality show is getting more and more interesting. To add a little tadka and twist to the ongoing show, Bigg Boss decided to reintroduce some of the old tasks. Only this time the contestants will have to fight harder so that they can win that Ticket to Finale. The real competition has begun now, will friends turn foes? Will lovers break up? Let's wait and watch, in the meanwhile here's what you can expect in tonight's episode:
Gauahar Khan and Kamya bond over bitching about Ajaz Khan: Early in the morning, an annoyed Gauahar shares her feelings with good friend Kamya Punjabi on Ajaz Khan's attention seeking behaviour. Gauahar dislikes Ajaz because she believes that Ajaz is a liar. Ajaz, on the other hand, reveals that he is not in love with Gauahar and was just playing the game.
The Ticket To Finale task: The housemates are divided into two teams to complete five different tasks. By the end of these tasks, one winner will be declared who will make a direct entry into the grand finale. The winners of each of these five tasks, will be given an opportunity to eliminate one housemate from getting the 'Ticket to finale'. There's a twist in this is that some of the best of old tasks are reintroduced.
Team A versus Team B: The teams are divided as follows – Team A – Armaan Kohli, VJ Andy, Sangram Singh and Tanishaa Mukherji; Team B – Gauahar Khan, Kushal Tandon, Ajaz Khan and Kamya Punjabi.
First elimination: Bigg Boss declares Team A as the winners of the Time task. While Gauahar and Kushal kept a tab on the clock, Ajaz Khan and Kamya fail to divert the oppositions attention. Gauahar is unhappy with results and complains while her teammates decide to ignore her. The irritated opposition team will decide to eliminate her from the task. A shocked Gauahar will then accuse Armaan's team and fights at being eliminated first. Gauahar feels she was targeted because she is a strong contender. Her anguish only excites Armaan's team further they prepare to knock out the rest of her team.
Kushal's failed revenge!: Kushal's team, on the other hand, is desperately waiting for another task to seek revenge. However, the Shaitan aur Farishtey task requires the contestants to protect their own medals while stealing the opposition's. Gauahar is asked to monitor the task. Ajaz is seen effortlessly giving away his medals to the opposition team. Both the teams strive hard, however Armaan's team succeeds again. This time Armaan's team decides to eliminate Gauahar's beau Kushal. Gauahar is visibly upset with Tanishaa for picking on Kushal and starts yelling at her which in turn leads to a heated argument. Not one to sit back and get yelled at, Tanishaa makes some personal comments about Gauahar which upsets her further and Kushal has to step in to calm her down.
Kamya's secret nomination plan: In the evening, Ajaz locks himself in the emergency toilet and overhears Kamya's nomination plans. Shocked by what he hears, Ajaz comes out and fights with Kamya. He accuses Kamya of being fake and feels that she makes friends only to use them for her benefit in the game. On realising that the fight is getting out of hand, Armaan steps in to calm down Ajaz.
Kabhi Haan Kabhi Naa: Armaan's team is jubilant with victories under their belt. However, in the opposition team Ajaz and Kamya, are not ready to call it quits. Despite their differences, they fight back and give Armaan's team tasks which are difficult to perform. The result Ajaz and Kamya come out victorious and decide to eliminate Armaan from the game.
While Armaan Kohli, Kushal Tandon and Gauahar have lost this golden opportunity. Andy, Sangram, Tanishaa, Kamya and Ajaz are still in the race, running for the Ticket to Finale. Who will be that lucky gal/guy to make it to the Bigg Boss grand finale?