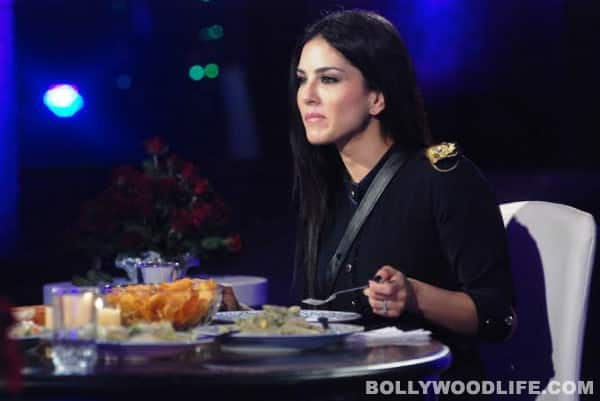 The Ticket to Finale task is still in progress as Kamya Punjabi, VJ Andy and Sangram Singh continue fighting for their spot in the Bigg Boss 7 Grand Finale
But in any game, someone has to lose for the other to win, right?18 hours later
As they cross the 18 hour mark, all the housemates are shocked to see Andy, Kamya and Sangram staying put in the box and Ajaz Khan decides to continue to trouble them to urge them to step out of the house. While the trio continued to stay inside the house, an additional task is introduced called the OLX.in Dua Kamao task is introduced. As a part of the task, all the housemates are required to sell one of their personal belonging to OLX.in. Excited by the prospect of raising funds for charity, Gauahar Khan gives away her kurta designed by Sonam and Paras Modi, Tanishaa Mukherji giver her tunic designed by Tanika Kedia, Armaan Kohli gives his Calvin Klein jeans, Kushal Tandon gives his white jacket, Ajaz gives his Woodland jacket which was gifted to him by his mother, Kamya gives her lehenga, Andy gives his G-star jeans and Sangram gives his Senior World Championship Wrestling jacket used in the Hungary Olympics.
Charity work begins
Ajaz even mentions that he hopes that the money raised is given to a charity which works towards the education of underprivileged children, especially because he is uneducated himself. Armaan speaks out about his past struggles and considers himself lucky to have been born in a rich family. He also mentioned that because his acting career didn't take off, he has chosen to enter the construction and film production business.
Sunny Leone enters
As the day moves on, Sunny Leone enters the Bigg Boss house while hiding under another box and quietly joins the contestants. Seeing an extra box enter the area, Ajaz pulls the box only to find Sunny Leone hiding under it. A contestant in the show's fifth season, Sunny receives a warm welcome from all the contestants. Bigg Boss assigns a task to the male contestants – Kushal, Armaan and Ajaz – wherein they are required to impress Sunny Leone while giving the winning contestant an opportunity to go on a special date with Sunny.
On a date with Sunny Leone
All three contestants try their best to impress Sunny. While Armaan delivers some great dialogues, Ajaz sings for Sunny and Kushal asks for her hand in marriage. As songs from Sunny's upcoming movie are played out, all three contestants are in for a surprise as Andy rushes in and dances with Sunny, thereby pulling out from the task. Sunny announces the winner of the task and they have a quiet date in the activity area of the house.
Is Gauahar using men?
As the date comes to an end, Sunny's co-actor from her movie, Sachiin Joshi enters the house. He speaks about Gauahar's misdemeanours and says that she has been using the men of the house. Both Kushal and Ajaz are stunned at hearing this. Gauahar gets annoyed but continues to control her anger. Soon after, Sachiin and Sunny exit the house.
Andy faints
Weak from having stayed inside the box for hours, Andy is seen stumbling in the bathroom area until he falls down and faints. Seeing his condition, all the contestants rush to his help and make comfortable. As Andy comes to senses, he says that he has been feeling weak and wants to relax for some time.
New world record
Towards evening, Bigg Boss congratulates Sangram and Kamya for breaking the World Record for staying put inside the box for over 26 hours – a record that had previously been created by Big Brother UK. As the day carries on, Kamya and Sangram are excited about having broken the record. However, neither is keen to step out of the box even as the lights are turned off because the challenges of the task makes them ensure their win.
Who will step out of the box and finalize a place in Grand Finale week?
Bigg Boss 7 diaries day 87: Will Armaan Kohli cheat Tanishaa Mukherji to reach the grand finale? View pics!