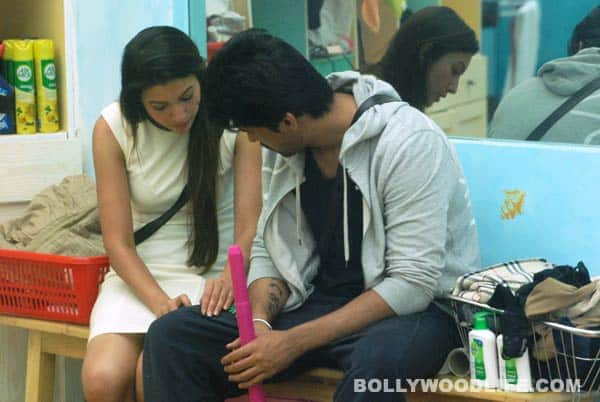 skip advertisement
The shock following Kamya Punjabi's exit is just about settling inside the Bigg Boss 7 house
Speaking out for the first time, Gauahar Khan voices her opinion about the eviction and makes the housemates feel guilty.
Gauhar wants Kamya to win
According to Gauahar, Kamya was a strong contender on Bigg Boss, who deserved to be a part of the Grand Finale and even win the show. Guilt starts to creep in Ajaz Khan's mind and he blames himself for Kamya's exit. He starts lining up chairs along the boundary of the house with the aim to jump across the wall and leave the show. While VJ Andy eggs him on, Sangram Singh advises Ajaz against taking such an extreme step. After some contemplation, Ajaz comes back inside the house. However, he continues to feel bad.
Party time
To raise contestant morale, Bigg Boss plays some party numbers for the housemates. Hearing the peppy songs, everyone goes to the Garden area and dance their hearts out. Gauahar mistakenly addresses Kushal Tandon as Ajaz which upsets him. Kushal leaves the area and heads inside the house. After some time, the songs stops playing and seeing Gauahar's plight, Ajaz feels dreadful. He then tells Gauahar that Kushal often mistreats her and she should not accept it.
Kushal ignores Gauahar
Gauahar and Kushal's differences continue the next day and the dishy dude continues to ignore her. Gauahar tries her best to apologise to Kushal, but he pays no heed to her. Upset with his behaviour, Gauahar starts crying, but Kushal's heart doesn't melt; instead he leaves the room and walks away.
Being the day for nominations, Bigg Boss soon calls all the contestants into the living room area to star the nominations procedure. All the contestants are asked to nominate two housemates who they would like to see evicted from the race to the finale. After the nominations process is completed, Ajaz continues to ponder over the state of relationships inside the Bigg Boss house.
Ajaz pledges his loyalty
The situation only gets worse when Kushal and Gauahar confront him about his behaviour towards Kushal. Ajaz clarifies that he considers Kamya and Sangram as his buddies and leaves the place in annoyance to avoid the duo. As this happens, Gauahar and Kushal hug and make up.
As the day draws to close, Kushal and Gauahar find themselves locked in the store room. Unable to take the situation lightly, Kushal gets aggravated forcing Bigg Boss to unlock the door and let them out. When Bigg Boss succumbs to Kushal's demands, Gauahar and Kushal walk out while making fun of the game. But is the joke really on them?
Bigg Boss 7 diaries day 90: Salman Khan entertains the housemates and team Yaariyan enter the house for their film's promotions!