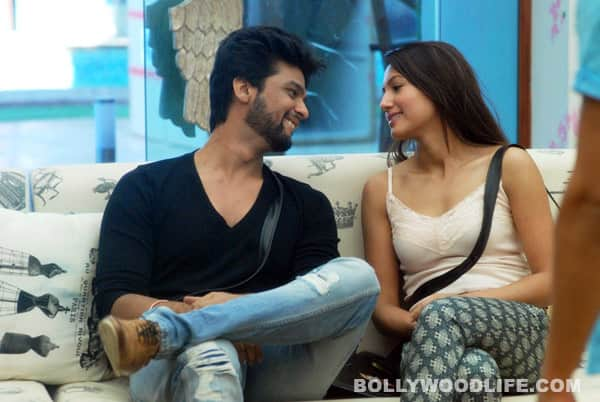 The two lovebirds continue with their PDA in the Bigg Boss 7 house
Sunny Leone and Sachiin Joshi, who will be seen together in Jackpot, entered the Bigg Boss 7 house to promote their new film. While sexy and sizzling Sunny (who is also a former contestant) got temperatures soaring, Sachiin made a statement that annoyed Gauahar Khan, Kushal Tandon and Ajaz Khan. What is it that he said, you ask?
He spoke about Gauahar's misdemeanours and said that she has been using the men of the house. Sachiin also insisted that Kushal and Ajaz are her puppets. Phir kya hua? Both Kushal and Ajaz were stunned at hearing this. Gauahar got annoyed, but continued to control her anger, as she didn't wish to create a mountain from that particular molehill at that point of time.
As soon as Sachiin and Sunny exited the house, Gauahar and Kushal locked themselves in the bathroom and could be heard discussing Sachiin's statement. Kushal was annoyed at Gauahar as she didn't say anything to Sachiin when he spoke ill about her.
While the two were talking to each other, there were also some strategic silences. So were they making out? Well, whether or not the two kissed each other in the bathroom is best known only to them. But this is not the first time that the two lovebirds have locked themselves in that private space. Remember how, when the nude yoga trainer Vivek Mishra came out of the house he revealed that the two were locked in the bathroom together for a good 18 minutes?
Anyway, whatever did or did not happen, it looks like Kushal is annoyed with Gauahar. But as they say, what's love that has no spark, hai na?