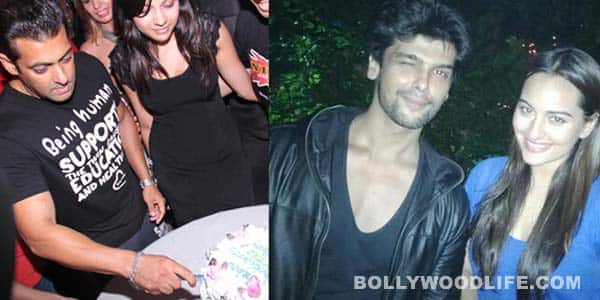 This might come as a bit of a surprise, but yes, Kushal was present at the Dabangg hero's party yesterday
Of all people, Kushal Tandon was at Salman Khan's birthday bash yesterday. Surprised? It indeed shocked us, considering all the tamasha that has taken place between the two men during Mr Tandon's stay in the house on Bigg Boss 7. While Kushal was present at Sallu's 48th birthday bash that began yesterday, we wonder if it was the Jai Ho actor who offered the invitation after the telly star extended the olive branch.
Considering the fact that Kushal accused Salman of being biased, while the Dabangg star shared similar sentiments and took cracks at the TV actor on multiple occasions, it had almost become like a war between the two. So we figured Salman wouldn't want to invite Kushal to his special day celebrations…right? Does his presence there mean that Kushal gatecrashed the party? Well, we don't know about that, but it indeed came a surprise to us when we saw him there, having a good time and being treated like any other honoured guest would be at the superstar's Panvel farmhouse. Apart from Kushal, another Bigg Boss 7 contestant Asif Azim was also present.
Now everyone knows that Salman doesn't forgive his enemies so soon, hai na? After all, we only have to mention names like Shahrukh Khan, Vivek Oberoi, Ranbir Kapoor and so on. But looks like Kushal is an exception to this rule. Of course there is another explanation. The gussa and garma-garmi was all only for TRPs, to bring in the audiences and gain popularity. What do you think?