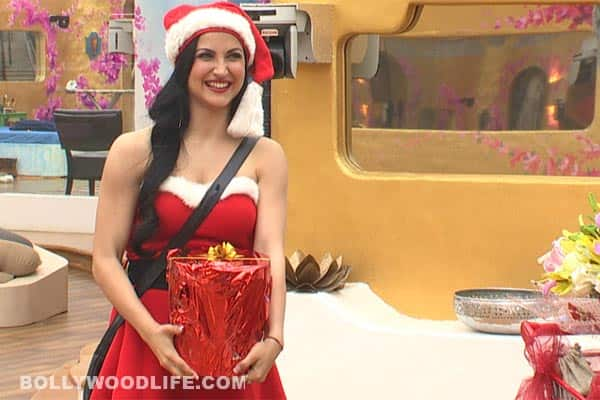 skip advertisement
Ex-Bigg Boss 7 contestant will enter the house again as Santa
So everyone is in a holiday mood and so are the Bigg Boss 7 housemates. On account of Christmas, Bigg Boss organised a special surprise for the housemates with former contestant Elli Avram visiting the glass walled house as Santa and bringing in gifts for everyone.
But Elli was no ordinary Santa, the Swedish-Greek beauty played a cupid Santa in Armaan Kohli-Tanishaa Mukherji love story. How, you ask? Well, here's how.
The episode will be aired tonight wherein Elli will be seen entering the house late in the evening dressed up in a red Santa like outfit with a basket full of gifts for all the housemates. Recognizing Elli, Sangram Singh, Ajaz Khan, Tanishaa Mukherji and Gauahar Khan will run towards her in excitement and will give her a group hug.
Elli will get everyone to gather in the living area where she will hand over the gifts to each one of them that their family and friends have sent for them. While Tanishaa will get a huge hamper filled with goodies and chocolates, Gauahar will receive a photo frame from her mother. Ajaz will start jumping with joy as he will unwrap his gift that will be his favorite food item nihari prepared by his mother. Sangram will get a memento from his girlfriend Payal Rohatgi. Additionally, Tanishaa will get a bunch of lilies from her close friends and recently evicted contestant Armaan.
Obviously after receiving all this, Tanishaa will start blushing. Soon after Elli will inform Tanishaa that there is another surprise waiting for her in the bonus room. Tanishaa will run into the bonus room and will find her favorite cake sent especially by Armaan. Overwhelmed to receive so many gifts, Tanishaa will thank Elli endlessly. After having long conversation with the housemates and revisiting all the memories over dinner, Elli will make an exit from the house.
It's quite evident that Tanishaa will be on seventh heaven after receiving gifts from his 'good friend' Armaan.