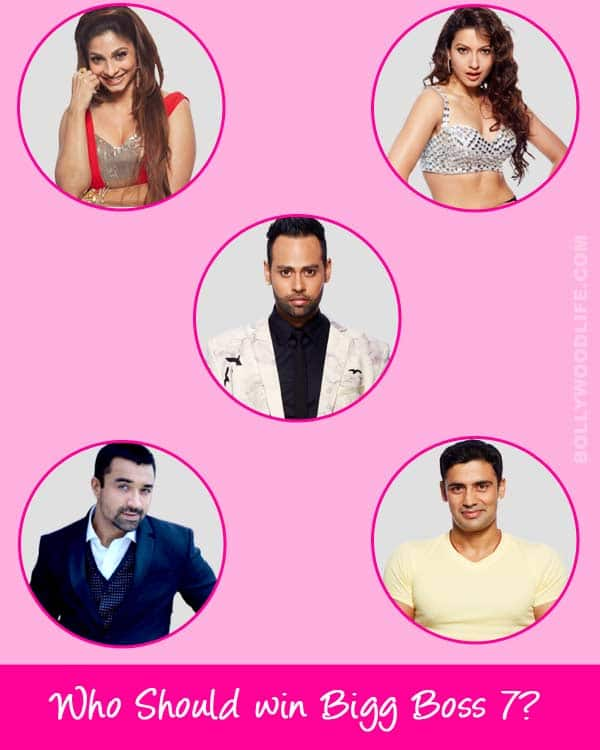 It's an open battle between the five remaining housemates, so who is your choice? Tell us….
Bigg Boss 7 has finally reached its finale week and five contestants – Gauahar Khan, Tanishaa Mukherji, VJ Andy, Sangram Singh and Ajaz Khan – are battling it out to bag the coveted title. But who should emerge as the winner this time?
Gauahar has always been considered one of the strongest contenders in the high voltage reality show. She had strong support in her boyfriend Kushal Tandon, who was evicted last week. Will that make her weak? And will that in turn affect her chances of winning the show?
The same is the case with Tanishaa Mukherji. Bollywood's forgotten heroine had huge support in her 'good friend' and another Bollywood actor left behind by time, Armaan Kohli, but such is Tanishaa's bad luck that Armaan was eliminated this week. Will Kajol's little sister be able to bounce back and bag the trophy?
Right from the beginning Andy has had a campaign going, wherein he appeals to the masses to vote for him. And it's probably the result of his campaign or maybe his honest game play that he has been able to survive so far in the show. Moreover, people find him entertaining and funny. So will he be the winner of Bigg Boss 7?
You will agree with us when we say that Sangram has played a very safe game. We never saw the pehelvaan taking a stand in the house. This is the reason that Sangram is in the finale week. But will the masses make him a victor?
Ajaz entered the house as a wild card entry and has stayed inside for a shorter period of time compared to the other four housemates who have been residents from the word 'go'. That is one factor which could work against him, but having said that, the man has entertained a lot of people and has won a lot of hearts with his sense of humour and unusual lingo. Will he emerge victorious on the Bigg Boss 7 Grand Finale?
So there you are. The top five contestants of Bigg Boss 7 are Gauahar, Tanishaa, Andy, Sangram and Ajaz. According to you, who should be the winner? Vote and tell us!