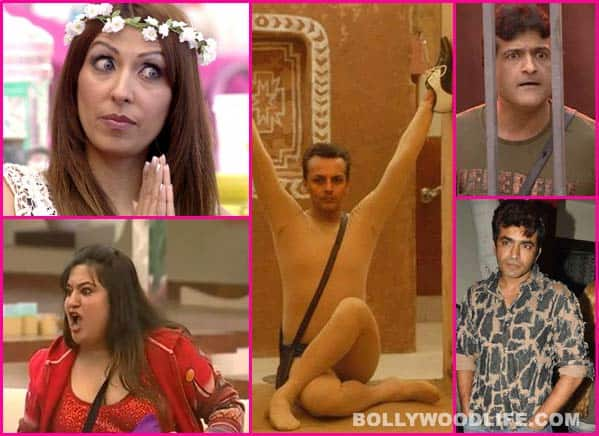 It's Halloween and life in the Bigg Boss 7 house is not all calm and peaceful. In fact, it is fast becoming a horror story. Here are some of the most scary characters who have been part of the high voltage reality show….
Halloween – the word itself evokes images of ghosts and goblins and otherworldly creatures drifting through the night. It's that time of year when spooks make our spines shiver and shake, and creepy crawly things go bump in the night. And there is plenty of all that going on inside the glass walled house of Bigg Boss in season 7, you know.
Since the first season of this high voltage reality show, we have seen creatures who have creeped all heck out of us. Since it's Halloween today, we made a list of the most frightening beings in nation's most controversial reality show, Bigg Boss…
Dolly Bindra – Without any doubt, she tops our list of creepy creatures on Bigg Boss. And why not! That loud and ugly makeup, heavy attire and of course that high-volume voice – she has all the qualities needed to be number one. Sunny Deol must have felt small after her 'Ayyeeee! Baap pe mat jaana!' act.
Raja Choudhary – Though this man did not have any ugly makeup on his face like Dolly did, his short tempered nature was certainly creepy. How can we forget Raja's ugly verbal spat with Sambhavana Seth, something that is still considered one of the most ugly war of words in the history of Bigg Boss.
Armaan Kohli – This forgotten Bollywood hero currently a housemate in Bigg Boss 7 has become the baap of Dolly Bindra and Raja Choudhary – he is one of the most recognisable faces in the house today. And we must say that he has managed to successfully boo us totally on various occasions. He has made certain contestants cry, been accused of saying lewd things to another, boils with anger at the slightest provocation, has romanced a third and been generally up to his beefy neck in trouble.
Imam Siddique – Like all good Bollywood movies, Bigg Boss works on three things: entertainment, entertainment and entertainment. And a very good example of pure entertainment is last year's contestant Imam Siddique. Known for creating a ruckus and havoc in the house, Iman became the perfect TRP generator. But this guy with a wacky style statement scared us right from his entry into the house. Remember Imam's act when he wore a bodysuit and wandered through the house like a ghost from The Grudge, throwing stuff here and there? It gave us chills… and not in a good way.
Pooja Missra – Other housemates called her a psychopath, and rightfully so. This overly aggressive woman with a split personality added zing to the show, but there were uncountable occasions when she spooked us… and how!