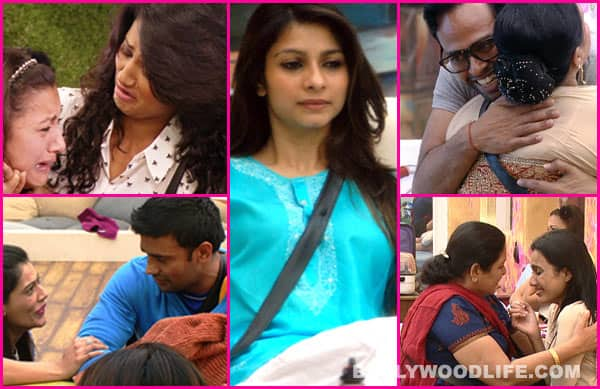 It will be an emotional rendezvous in tonight's episode of Bigg Boss 7
Looks like its family time inside the Bigg Boss 7 house. The family members of the housemates except Tanishaa Mukherji, Armaan Kohli, Sofia Hayat, Ajaz Khan and Kushal Tandon will be seen entering the glass walled house for a brief period of time. And no points for guessing, it's going to be an emotional outburst in the show today.
In tonight's episode of Bigg Boss 7, Bigg Boss will announce a special task – Remote Control task – giving the housemates a chance to earn more points. During the task whenever Bigg Boss will give instructions of 'pause' they will have to stop whatever they are doing and freeze unless he releases them by saying 'play'. As part of the task, family members of the contestants will be seen entering the house to meet them. First to enter will be VJ Andy's mother, who enters the house shouting 'Vote for Andy'. As soon as Andy sees her, he runs to her and will hug her, but before he could say anything Bigg Boss will command everyone to 'pause'. Andy's mother will start moving everywhere in the house and meet everyone. After a couple of minutes, Bigg Boss asks her to say goodbye to everyone, and he will release everyone after saying 'play'. Andy gets to meet his mom for couple minutes, before she's asked to bid good bye to everyone. Next to enter the house will be Sangram Singh's fellow wrestler friend Yogeshwar. He comes and hugs his friend and wishes him and everyone luck, and also says that he is doing well in the show.
After this, Kamya Punjabi's mother enters the house. Kamya will be seen crying profusely after seeing her even though she has to be in 'pause' mode. When Sangram's girlfriend Payal Rohatgi enters the house, it's nothing short of a surprise for him as he will be taking a steam from a tub with his head covered with a towel. When she comes and lifts the towel from his head, even before he can react, Bigg Boss commands everyone to remain paused.
Next to enter the house will be ex-contestant of Bigg Boss Dolly Bindra. When she enters the house, it's obvious that the atmosphere of the house changes completely.
After seeing everyone's relative, Gauahar Khan also wishes that her sister Nigaar Khan could come and voila her wish comes true. Nigaar enters the house singing a song. But even before she could say anything, Bigg Boss commands everyone to be pause, but Gauahar's tears continues to flow. Nigaar will be seen hugging and kissing her sister and showering love on her. Armaan's mother will send messages for her son. Since Sofia's family does not stay in India, they were not able to come to the house. Kushal re-entered the house recently, so he already got to spend some time with his family after his dismissal from the house.
But Tanishaa's family didn't send any messages to her even after residing just hours from the Bigg Boss house. This makes us wonder if Tanishaa's family has disowned her. If you remember, during Diwali, while each and every received gifts from their family members, it was only Tanishaa who didn't receive any gifts from her mother Tanuja and sister Kajol. Has Tanishaa's closeness towards Armaan irked her family so much?