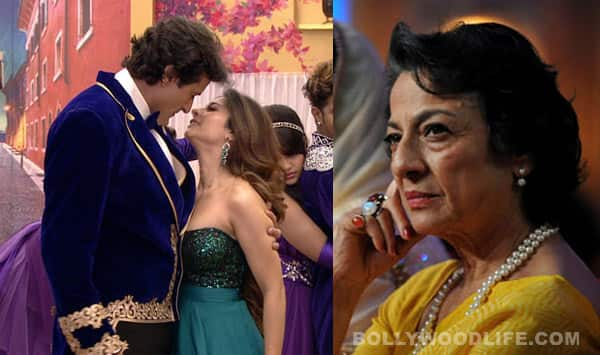 All seemed well on the surface at the Bigg Boss 7 Grand Finale, but it wasn't….
Tanishaa Mukherji must have heaved a sigh of relief on spotting her uncomfortable looking mommy Tanuja in the audience when she finally made her exit from the glass walled house. After all those reports about her not receiving gifts from her family on Diwali and her mom and sister Kajol being upset about her closeness to Armaan Kohli, this must have definitely been the saving grace for the gal fondly called Tich. Tanuja made an appearance – albeit a brief one – at the Bigg Boss 7 Grand Finale, apparently after a lot of convincing from the host Salman Khan; we hear that the veteran actor decided to stay locked in her car for most of the shoot. While Tanishaa's mum put to rest rumours of the Mukherji family being miffed with her when she showed up on the show, those present swear that all wasn't well. There were vibes between mother and daughter that made it obvious that something was wrong.
And Tanuja did add fuel to speculations about the family being annoyed with Tanishaa's closeness with fellow contestant Armaan Kohli. Yes, Tanuja did get emotional after seeing her daughter after so long, but all the emotion completely vanished when Armaan was given the microphone to talk about Tanishaa. Tanuja made her disapproval obvious with her facial expressions. And it went further – when Armaan touched Mukherji Sr's feet to seek her blessings, he also told her that she had 'a beautiful daughter', to which Tanuja had a curt response: 'I know'.
There was more – after Gauahar was declared the winner of the reality show, Tanuja cornered Tanishaa in her vanity van and gave her daughter an earful. Sister Kajol too was reportedly heard giving her li'l sis advice over the phone before Tanishaa could have a chat with the media about her experience inside the house and with her co-contestants, Armaan in particular. Apparently Tanuja was overheard asking her daughter about Armaan, to which Tanishaa responded, "Mom, please! Not now. Later."
Tanishaa's family doesn't approve of her relationship with a failed actor like Armaan Kohli. But will Kajol, Tanuja and perhaps even bro-in-law Ajay Devgn ask her to break up with him? Will the Tanishaa-Armaan relationship – whatever it may be – come to an end because of family pressure? Only time will tell.