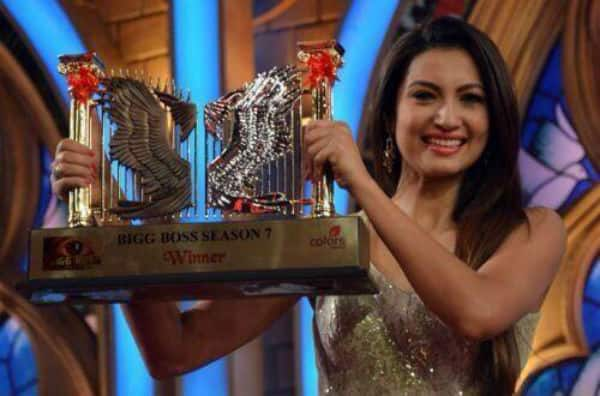 Gauahar has won Bigg Boss 7. We caught up with the lady to know about her journey inside the house and much more
After battling it out with 19 contestants, Gauahar Khan has emerged as the winner of Bigg Boss 7. We caught up with the gal and asked about her journey inside the glass walled house, boyfriend Kushal Tandon and much more. Here is what she had to say…
Who would you want to dedicate your win?
I would like to dedicate my win to each and every person who voted for me and who gave me a lot of love. I won't call them fans, rather I would call them loved ones because they have made me win with love. So I dedicate this win to all those people who wanted me to win.And most importantly I would like to thank God because it wouldn't have been possible if he didn't wrote this in my life.
Did you expect to win Bigg Boss 7?
I used to tell myself that I want to win because I feel that it won't happen if you do not want it to happen. I used to tell Allah everyday that I want to win. So I wanted to win, but I didn't expect to win. There is a difference between the two. If I didn't wanted to win, I wouldn't have been in the show, hai na?
So you are shocked?
Yes, I am shocked. It was between me and Tanishaa (Mukherji) in the end and no doubt she was a very strong contender. And when I saw legend Tanujaji (Tansihaa's mother and veteran actor) in the crowd, I thought that I won't win. It was the biggest prize for me to see Tanujaji sitting there. But God wanted this and it happened.
What according to you were your qualities that made you the winner?
I was just trying to be myself on the show and I was not at all fake. Whatever you saw of me on the show is the way I am in real life as well. But I received a lot of flak about my me being very vocal, but that's me. I can't control myself. If I have an opinion on something, I will say it out. So yeah, people maybe loved these qualities of me and made me win.
What do you think went wrong for Tanishaa? Why according to you she lost?
(Grins) Because people voted for me and not for her. But everyone had their won journey in the house, so I can't really say anything. Maybe people liked my journey and they voted for me.
You also fell in love in the house…
Yes, I think people loved that also. Because people do get attracted with each other while they are on the show, but maybe it's because of media and everything that they do not openly confess about it…
Are you referring to Tanishaa and Armaan here?
No. I am talking about previous seasons where we saw a good chemistry between lot of people, but those people never really confessed it openly. I had feelings for Kushal (Tandon) and he had feelings for me, so we openly confessed it on the national television. So maybe people liked that honesty. and whatever is there between Kushal and me is real.
As you said we have seen people falling in love with each other on the show, but as soon as they come out, their relationship doesn't last outside the house? Will you and Kushal create history?
Inshallah. I hope we take it to another level.
Do you think your family will accept Kushal?
I don't think there will be much problem. Kushal is a very good person and we have understood each other. So our families will also understand us. I have just stepped out of the house, so I want to discover him in a different way and he wants to discover me in a different way.
We have seen people using the love card in Bigg Boss to go ahead in the game and a lot of people have been saying that all that between you and Kushal was a strategy…
You know love is a thing on which you cannot play a game. My relationship with Kushal is what it is. I am not going to camouflage it or lie about it outside the Bigg Boss house. This might be the speculation in the outside world and I respect that because I know we are on a show where we will be judged.
There were also bathroom scenes, where we used to see that you both used to the washroom and talk…
Yes, that was my call. Because we had a lot of fights in the last few days we were together in the house. So I didn't wanted to look bad and I didn't wanted him to look bad. And he was already being told that he gets angry a lot so I didn't wanted people to say the same thing about me. So that's the reason we used to go the washroom and talk in actions. I never removed my mic because that's against the rules of the house, so that's why we used to talk in actions.
Salman Khan constantly used to take whips on Kushal and sometimes on you as well. Do you think he was biased? Because his fairness as a host was in question…
He was not biased. It's just that whenever he used to say something wrong, I used to tell him that you are not listening to me, but he on the other hand used to tell me that I am not listening to him which was actually true because I love giving opinions. He is hosting a show and he is doing a fantastic job and I don't think anyone else except him can host Bigg Boss. Yes, you are inside the house and you feel bad sometimes, that's it.
Now that you have won the show, are you going to party hard?
Of course, I want to party hard and celebrate my win.