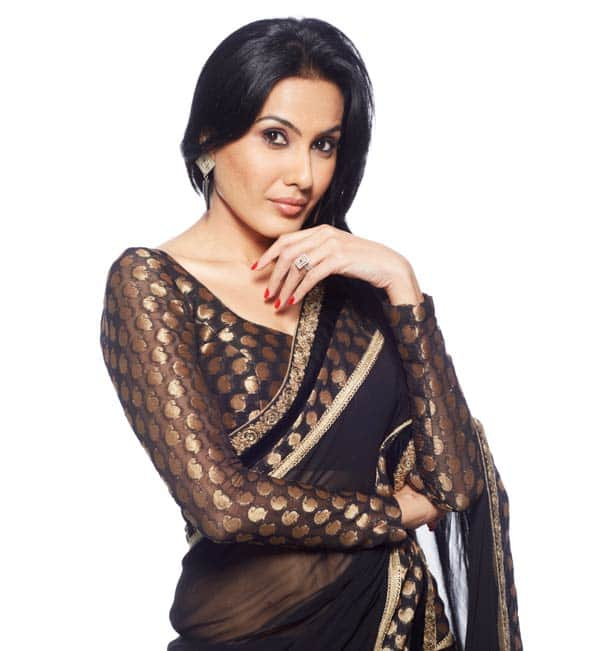 Kamya is the latest contestant to have been eliminated from Bigg Boss 7
After spending almost 13 weeks inside the glass walled house, Kamya Punjabi was evicted from Bigg Boss 7 yesterday, We caught up with one of the most famous vamps of television and here is what she had to say…
How would you describe your experience in the Bigg Boss house?
Frankly, it was a difficult journey. It was a journey through which I learnt a lot about myself. I learn about my inner strength. I came to know that I have a lot of patience in me which I never realised before Bigg Boss 7. Trust me, it's a really difficult place to live in. Say for example if you get into a fight with someone in the outside world, you can get out of it by ignoring that person, but in that house, there is no escape. You have to face that person because you do not have any other option.
From last three seasons, we have witnessed female TV actors coming out of the house as winners, but this season that streak is broken. You were the only female television actor who was remaining in the house, and now you are evicted. Do you feel disappointed?
I never entered the house with a thinking that I am a TV actor so I will win the show. In fact after breaking an international record, I feel that I have achieved a lot. It's something way more than winning the show and I have no disappointed and regrets whatsoever.
Do you blame Ajaz Khan for your eviction because hadn't he discussed the nominations, you wouldn't be out of the house now? You were a strong contender in the game…
Seriously I didn't know that I was a strong contender in the game. I will blame no one for my elimination. I have walked out of the house with a lot of dignity and I am extremely happy with my journey in the house.
Given a power to eliminate one person from the house then who would it be? Who according to you doesn't deserve to be the winner of Bigg Boss 7?
I would actually not like to comment on that. Each and every person in the house feels that they deserve to win. So I think it would be unfair to take one name.
And who according to you deserves to win the show?
It has to be Sangram Singh. He has lived in that house with a lot of dignity. So yes definitely I would like him to win Bigg Boss 7.
You bonded really well with Pratyusha Banerjee in the house, but apart from her who have been your two most favourite people?
Apurva and Shilpa Agnihotri. They both are real sweethearts.
There are two couples inside the Bigg Boss house right now. According to you, which couple's relationship will last even outside the house?
I am nobody to comment on that. I have never commented about anyone's relationship while I was inside the house, so I won't comment now as well. I know that Gauahar (Khan) and Kushal (Tandon) are madly in love, but will their relationship last even outside the house is something known best to them. In fact, I wish to attend their wedding.
Do you think Bigg Boss was biased towards Armaan Kohli as he hit Sofia Hayat with a mop and didn't get punished, but after Kushal hit VJ Andy, he was thrown out the house…
See, I was in the car, so I couldn't see anything clearly, but from whatever I saw, I felt that Armaan's actions were wrong which I told him on his face. I also felt that that his actions were not intentional, so it all depends on your intentions. There is a big team working on the show and they have their own technicalities and rules, so they always try to be fair. I have a faith in them and I feel whatever they do is fair.
We recently saw Kushal having a discussion Gauahar whereby he said that lakhs of people are voting for him and he will win the show, do you feel other housemates as well have done their arrangements to get huge number of votes?
Of course. Each and every housemate apart from Sangram has made sure that they win the show. Andy even told me that his brother is campaigning for him in London. I would not like to take names (she means Kushal), but there are some people who have their PR machinery in place. So yes, out of everyone, I would like Sangram to win and no one else.
Now that you are out of the house, what's next for you? A comeback to the daily soaps or an entry to Bollywood?
I love TV and I am really passionate about it, so I would not want to leave television. I haven't thought of doing a Bollywood film and frankly I don't want to do it. I love TV and I want to be a part of TV forever.
Lastly, given a chance, would you like to enter the Bigg Boss house again?
Abhi kya. There are only two weeks remaining.
No, but still if you get a chance, would you like to re-enter?
Of course, yes. Now I have met my mother and daughter, so I am all charged up. So yeah, if given a chance, I would like to go back to the house.