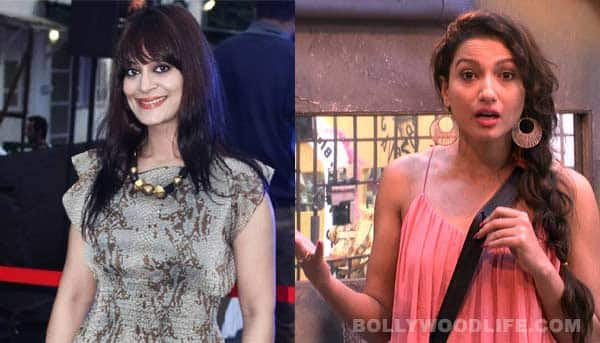 The latest evictee from Bigg Boss 7 seems to be feeling the green-eyed monster on her back when she thinks about Gauahar….
Candy Brar – the former flame of dismissed contestant Kushal Tandon – who entered the Bigg Boss 7 house recently was evicted from the show this weekend. We caught up with with the model turned businesswoman post her exit and realised that that she has a major issue to deal with – she is intensely envious of Gauahar Khan. We asked her whether she would have returned to the house if she had been in Gauahar's place. She was quick enough to say, "No, I wouldn't have!" Well, it seems that neither Candy nor her lawyers read the Bigg Boss contract carefully. Because all the housemates are bound by a clause that states that if any housemate chooses to leave the house, they would have to pay a penalty of Rs 50 lakh to the channel. So when such a hefty amount is in question, there is no doubt that if Candy had been in Gauahar's place, she would have done exactly what Gauahar did.
What Gauahar did was absolutely commendable, wethinks. She stood up for someone even after knowing that it would cost her a penalty of a whopping amount of money. Moreover, the courage needed to go back to a house in which you are not welcome needs to be appreciated, no?
When we asked Candy who according to her are the most bitchy people inside the house, she took 21 seconds to answer. And Gauahar was her target again. She believes that Gauahar and Kamya are the bitches in the house. That's not all. Candy also had a word of advice for Gauahar. She told us that too much bitching is hazardous for Gauahar's health and mind.
Now this makes us wonder if Candy is envious of Gauahar – after all, the gorgeous model is now reportedly romantically involved with Candy's ex Kushal Tandon. Get the connection?