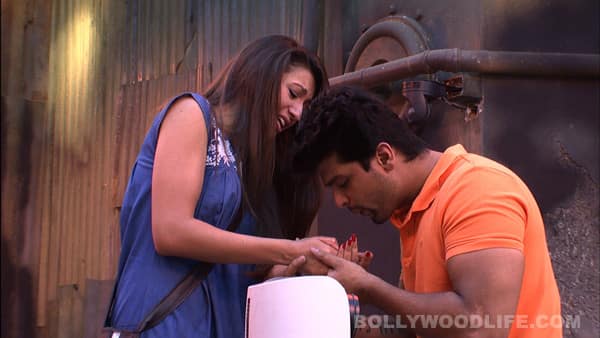 Every year in Bigg Boss we see couples in the making, however, none of them last once the show ends
In season six we saw Vishal Karwal and Sana Khan getting close, in season four it was Veena Malik and Ashmit Patel getting under the blankets and now in Bigg Boss 7, we believe it's going to be Kushal Tandon and Gauhar Khan.
The duo has been seen getting really up, close and personal inside the house. In the previous episodes, we saw Kushal being generous and giving the leggy lass a back massage – 'coz of the amount of work she is doing, right.
Kushal is also heard telling Gauhar that he loves to trouble her; obviously nothing goes amiss by the inmates. Everyone is seen gossiping about how close the two have got and speculating whether the two will hook up or not.
Kushal and Gauhar often wander off to have their private chats about the other inmates, nominations and who bugs who the most. While we enjoy the romantic angle in the house, we are a bit impressed with Gauhar. In a recent chat with Kushal, she tells the dishy dude that he should not trust anyone in the house, not even her. In fact, Hazel Keech, who just got eliminated said in an interview, "Kushal likes Gauhar, but she is just manipulating him. She finds Armaan Kohli more fun and inspiring." Guess the babe knows when to play games and when to work her charms. Way to go Ms Khan!
If you ask us, this would be a golden opportunity for the two to get together. Kushal is single as he broke up with Elena Boeva in March this year and Gauhar is still looking for her Mr Right – they look good together and seem to enjoy each other's company, so, why not.