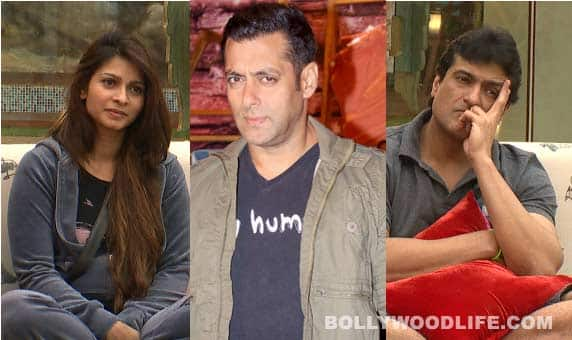 The otherwise wicked and nasty Salman Khan seems to be taking a step back when it comes to Kajol's baby sister and Armaan. Is this because apna outspoken bhai does not want to spoil his connections with the filmi family Tanishaa belongs to?
We all know how outspoken and wicked Salman Khan can be, right? We know the bhai of tinseltown doesn't think twice before voicing his opinion and cracking the whip on the Bigg Boss 7 contestants – we've seen him in action, after all. But it looks like the otherwise nasty Salman hides in a closet when it comes to a certain Tanishaa Mukherji. Why? What makes him treat her with the proverbial kid gloves?
It is quite evident that while other housemates – who don't belong to a major film family like Tanishaa does – become the subject of his snide remarks and a few have even become the butt of his quirky jokes, when it comes to Tanishaa and Armaan, the bindaas host mellows and suddenly gets more civilised and polite. And our argument is solidly supported by so many instances.
For instance, when Tanishaa and Armaan got up close and personal with each other in the glass-walled house, Sallu bhai – in a very civilised manner – warned the lovebirds about the presence of 84 cameras inside the house. Now if it had not been Tanishaa-Armaan and someone else instead, would Salman have treated them so gently? We certainly don't think so!
When Tanishaa got into a war of words with Pratyusha Banerjee recently about Armaan, Sallu took Kajol's little sister's side and told her that it was not worth getting into a fight with the Hindi TV soap star. Does that mean the other contestants inside the glass walled house are not worth talking to? Well, that's what the bhai seems to think.
So that leads us to wanting answers – why is Salman not being his regular wicked self when it comes to Tanishaa? Or even to Armaan? Why are his harsh words reserved for all the other contestants but these two? Is Salman playing favourites? More interesting, is Salman playing it safe?
Why do we say that? This is our reason – a bitchy birdy from Lonavala chirped to us that Ajay Devgn, who is the brother-in-law of Tanishaa and a very good friend of Salman had a word with him on the phone and asked him to take special care of his biwi's baby sister. Now Sallu can't possibly say 'no' to his buddy, hai na?