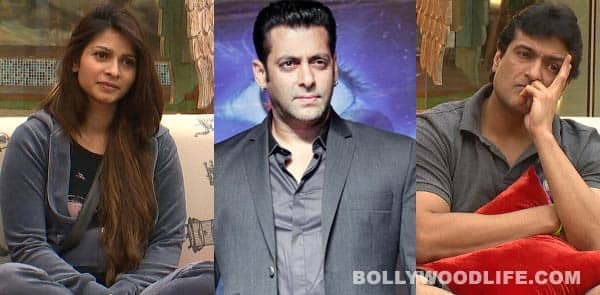 The eternal bachelor of B-town apparently doesn't want Tanishaa to mingle with Armaan
We have been witnessing a growing bond between Bollywood's two forgotten actors Tanishaa Mukherji and Armaan Kohli inside the Bigg Boss 7 house. From aaankhon hi aaknkhon mein ishaaras to holding hands, the two have been doing it all. But as they say, what's love without a spark? A love story without a villain is like a bird without wings, no?
So who is playing the villain in the Armaan-Tanishaa love story, you ask? Who is that one person who wants to separate these two lovebirds from each other? Well in the, it's none other than the host of Bigg Boss 7 and B-town's eternal bachelor- Salman Khan. Yes, you got it right. Looks like Sallu bhai doesn't want Tanishaa to mingle with Armaan. The entire nation knows about the growing bond between Tanishaa and Armaan, and initially Salman refrained from commenting on it. But when he saw that the bond between these two lovebirds is growing stronger day by day, the man just couldn't control and told them to keep away from each other, in a not so direct manner of course. Now this brings us to the question of the day. Why does Salman Khan not want Tanishaa to mingle with Armaan?
As we had reported earlier, Ajay Devgn who happens to be Salman's good friend and Tanishaa's brother-in-law asked Salman to take special care of Tanishaa while she is inside the mad cap house. So has Ajay Devgn asked Salman to intervene in Tanishaa-Armaan love story? Possible, right?