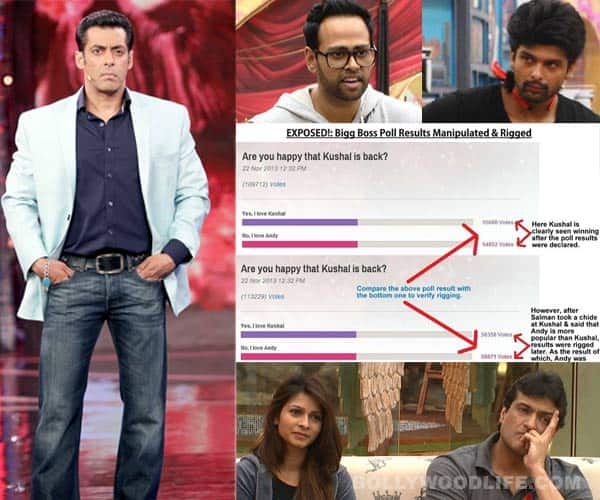 Is the Dabangg Khan in an angry mode? Is Sallu seeking vengeance?
Salman Khan is not happy with Kushal Tandon's comeback in the Bigg Boss 7 and this is no hidden secret. It was evident in the weekend episode when a war of words broke out between the Bollywood star and TV actor. Salman clearly said that he didn't have any say in Kushal's comeback and it was the decision of Colors team to bring him back.
We believe Sallu when he said he didn't have any say in Kushal's comeback, but a look at the Colors website and you know that Sallu is no less than Bigg Boss for the channel and his fans. Wondering what are we talking about? Well, the story goes like this – after Kushal re-entered the house, a poll was conducted on Colors' website. (see pic) The channel asked its viewers: 'Are you happy that Kushal is back?' and the two options were 'Yes, I love Kushal' and 'No, I love Andy'. Now considering that the channel already had made the choice of getting Mr Tandon back to the house what was the need for this poll, right?
What was amazing  that soon after the poll was thrown open Kushal's popularity was in full display. TV's pin-up boy was a clear favourite with the Bigg Boss audience leading the poll. Then came Sallu on the show and chided Kushal stating that Andy was popular than him. Soon after this remark the poll status on the channel's site changed. Andy was suddenly leading the polls. Confused? We were left wondering if it was Sallu dictating this channel poll or was it Salman fans? Did Andy really have more fans or was it Sallu's support that got him up in this poll?
If you will remember, Salman had previously said that Kushal had taken the 'mileage' of the situation with his statements after his ouster from the house. Kushal clarified that he made no such comments; Salman however insisted that Kushal had hired a PR machinery to work on his image. Buzz outside was that despite being approached by PR's for propaganda, Kushal had turned down their offers.
Now that Sallu has declared a war in the open with Mr Tandon, looks like VJ Andy too has found a special place in Mr Khans existing list of favourites (Tanishaa Mukherji and Armaan Kohli), hai na?