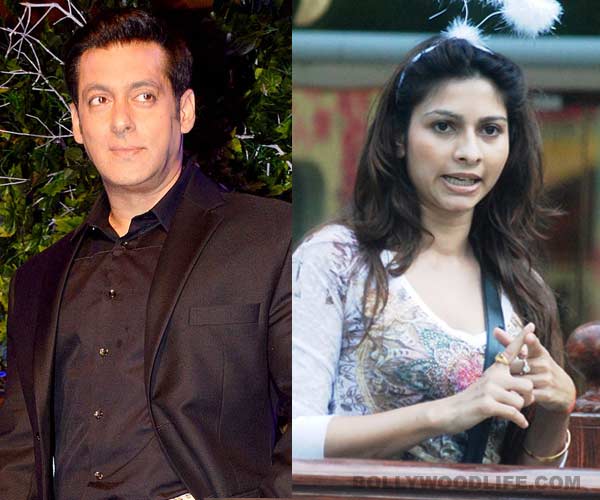 While the Dabangg dude is known for speaking his mind and sparing no one with his bhaigiri as the host of the popular reality show, Tanishaa Mukherjee apparently gets a special treatment from Sallu. Is it because she is Kajol's sister and Ajay Devgn's sister-in-law?
Salman Khan is biased! The otherwise wicked and nasty bhai seems to be taking a step back when it comes to Kajol's sister. When Tanishaa got into a war of words with Pratyusha Banerjee recently, Sallu took Tanishaa's side and told her that it was not worth getting into a fight with the Hindi TV soap star.
Salllu did not hesitate to give an earful to contestant Kushal Tandon, a TV actor, for his bad behaviour with Tanishaa and many appreciated his stand. But others felt that the popular host is biased when it comes to Tanishaa and allege that he defends her due to the fact that she is Kajol's sister.
The regular Bigg Boss 7 followers are pouring their anger over Sallu's biased behaviour towards Tanishaa. "A clear cheat by Salman Khan today (Saturday) to support Tanishaa… why? Because she is from Mukherjee family or because she is a relative of Ajay Devgn," said an angry Twitter user Shweta.
While bhai is known for taking potshots at other contestants very conveniently and absolutely unhesitatingly, when it comes to dealing with Armaan Kohli and Tanishaa, the otherwise fiery Salman chooses to be very 'mild' with his words. Perhaps it is the actor's Bollywood background which makes Salman choose them over others. "Salman Khan is so partial towards Tanishaa Mukherjee and Armaan Kohli. Bollywood is backing them and so is Salman Khan," Pratibha another Twitter user who follows the show ardently, tweeted.
Our secret birdy from Lonavala chirped to us that Ajay Devgn, Tanishaa's brother-in-law and a very good friend of Salman had a word with him on the phone and asked him to take special care of his biwi's baby sister. And clearly, Salman is following the diktat quite religiously!
We also hear that Salman had actually warned Tanishaa to be careful with her words and her actions on the show, but that specific part was later edited out.
But does this explanation makes sense? If Sallu wants to instill some fear in Tanishaa's heart, are the regular Bigg Boss followers not suppose to know that? Or was that part of show not aired just because Tanishaa comes from a well-connected filmi family?
Tell us what do you think about Sallu's beahviour? Do you think bhai is biased as the host of Bigg Boss 7?