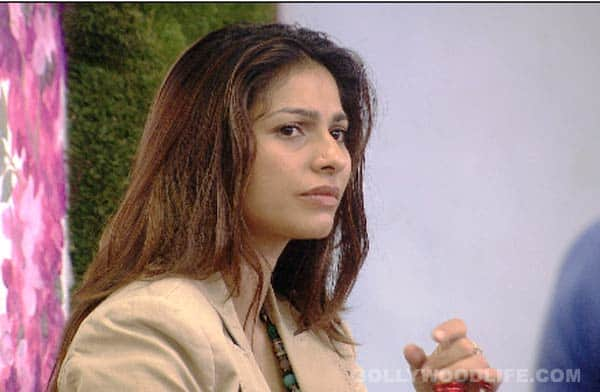 Apparently Tanishaa will soon be evicted from the house of horrors…
Tanishaa Mukherji has grabbed the headlines right from the beginning of Bigg Boss 7. First it was reported that she entered the house even though her family was unhappy with her decision. Then after she entered the house, various reports started doing the rounds that Tanishaa's brother-in-law Ajay Devgn called up host and dost Salman Khan to take special care of her.
Everything was fine and good, until love started blooming between Tanishaa and her fellow contestant Armaan Kohli. This is where the problem began. Apparently Ajay again called Sallu and asked him to edit out controversial situations involving her because the family was embarrassed. Although the host can't tell the channel what to show, in the following week's episode Salman reminded Tanishaa about the number of cameras in the Bigg Boss house. However, the Dabangg Khan's word of advice seems to have been ignored by the love-birds.
The two continued with their PDA and were seen getting cozy with each other. That's not all. The Bollywood's forgotten actors also indirectly confessed about their feelings to each other. Rumours were rife in the media circuit that the two were caught naked inside the house right after the lights went off. This was when the matters took a turn for worse. Now we have heard that Ajay has again called Salman and asked him to get Tanishaa evicted from Bigg Boss 7.
"There's pressure on the channel to evict Tanishaa from the show. Her proximity with Armaan is something that has shocked the entire family. Last week's reports have shocked Tanishaa's sister Kajol and mom Tanuja and they pressed Ajay to make that call to Salman. Ajay called Salman and requested him to look into the matter and find a way of evicting Tanishaa. Her eviction is being planned in the next couple of weeks. It remains to be seen if the channel will agree as it's all about TRP's and Tanishaa and Armaan's onscreen antics create a lot of buzz", reveals a source.
So can we say that Tanishaa will be forced to make an exit from the house? Will the lovers of the house will be separated? Well, all we can do is just wait and watch…