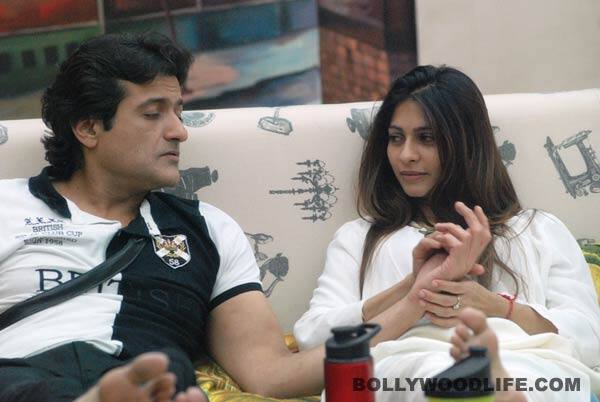 Kajol's little sister has been giving different statements to the media about her 'relationship' with the man who needs anger management lessons…
The closeness that Tanishaa Mukherji and Armaan Kohli shared with each other inside the Bigg Boss 7 house became the talk of the nation. The two were often seen cuddling, hugging and kissing each other, making it obvious that they both were more than just best friends. There also came a point when Tanishaa was seen talking to Armaan when she said that they both would explore their relationship once they were out of the house. And, as expected, the show's makers cashed on this couple's chemistry. The duo even performed a romantic number set against the backdrop of a bedroom at the finale. Now that definitely speaks volumes, doesn't it? But looks like things have changed now that the season is over.
Tanishaa is out of the house, and wethinks she is embarrassed about her relationship with Armaan…. or was she lying about it? Why do we say so? Because Ms Mukherji has been giving contradictory statements to the media post the finale. While one publication quoted her saying, "Armaan is a friend and that's all I have to say", another said, "You saw whatever was there between me and Armaan. I don't have to say anything about it." Well, Tan, we must say you are confusing us a little too cleverly. if you ask us to believe what we saw, then we can't call you 'just friends', hai na? That would be another lie. Looks like Tanishaa is now confused about her relationship with Armaan. Guess we should ask the Mukherji gal to take a few lessons from Gauahar Khan on how to wear your heart on your sleeve – what say, BollywoodLifers?