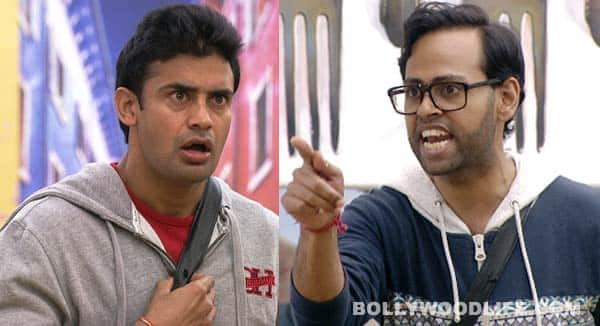 The sweet friendship between Sangram and Andy will go sour in tonight's episode of Bigg Boss 7…
The courtroom session with Rajat Sharma in yesterday's episode of Bigg Boss 7 certainly did plenty to reveal some of the less likeable personality traits of the housemates that have so far gone unnoticed. One such contestant who has been unmasked is Sangram Singh, who has always maintained a diplomatic stand, ever since the beginning of the show. When Rajat questioned Sangram about not protecting his supposed best friend VJ Andy when he was being attacked by Kushal Tandon, Sangram did not have an answer; after all, he had escaped from the situation.
It came as a shock for Andy when Rajat showed off a clip of Andy and Kushal's fight, where Sangram could clearly be seen standing in a corner. From that moment we will see Andy maintaining a distance from his former buddy in the house. In the morning, while Ajaz and Sangram will be having a conversation, Andy will overhear Sangram complaining about him and join in the dialogue. Andy, who is already upset with Sangram, will get even more agitated – this will lead to an intense argument between them. Andy will be heard yelling at the top of his voice while asking Sangram for a justification for not being by his side when he was being targeted by Kushal. The situation will go out of hand when Sangram in a harsh tone will tell Andy that he is playing the game for himself and doesn't want to lose because of someone else. Sangram's discourteous behaviour will compel Andy to break all ties with his once-dear friend.
Is this the end of the remarkable friendship that Sangram and Andy once shared? Let's wait and watch…