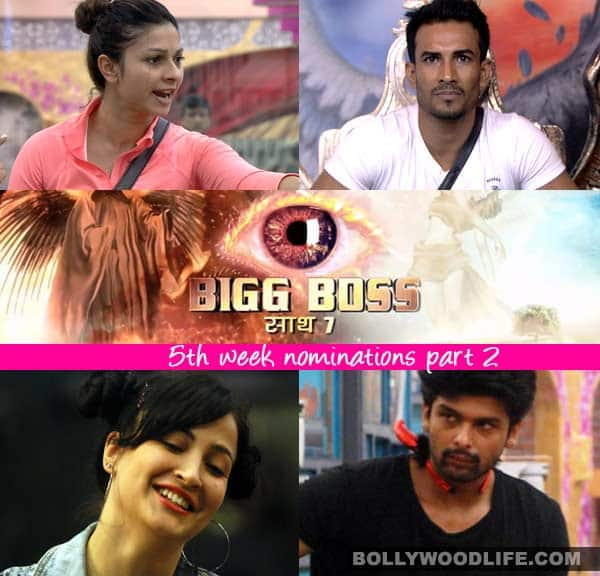 After Viveik Mishra was eliminated mid week, one more contestant will be evicted tomorrow from Bigg Boss 7
The makers of Bigg Boss have been calling it an unpredictable show from the very beginning and they seem to be sticking to their statement. We witnessed an unpredictable mid-week eviction this week in which Viveik Mishra was eliminated from the show.
After Viveik's elimination, Bigg Boss conducted the nomination process yet again as it was announced that two housemates will be eliminated this week. One was Viveik and the other will be eliminated on Saturday.
The nomination ki prakriya commenced and Bigg Boss directly nominated Tanishaa Mukherji and Kushal Tandon as they flouted the rules of the house. During the luxury budget task, Kushal and Tanishaa got into a verbal spat which ultimately resulted in Tanishaa pushing Kushal which amounts for physical violence and it is against the rules of the house.
Then Bigg Boss one by one asked housemates from the winning team (Gauahar, Sangram, Kushal, Armaan and Pratyusha) of the luxury budget task to nominate two people from the loosing team (VJ Andy, Elli, Tanishaa, Kamya andAsif).
Kushal nominated Elli Avram and Asif Azim citing their poor performance in the task. Gauahar Khan nominated Asif citing his over emotional and over serious attitude during the task and Elli as she did not perform the task. Sangram Singh nominated Kamya Punjabi citing her short tempered nature and Asif. Pratyusha Banerjee also nominated Elli and Asif. Armaan nominated Kamya citing the verbal spat he had with her and Asif as he doens't play the game in good spirit. Captain of the house Apurva Agnihotri also nominated Asif and Elli.
The nomination process came to an end and Kushal, Tanishaa, Asif and Elli were sent to the danger zone.