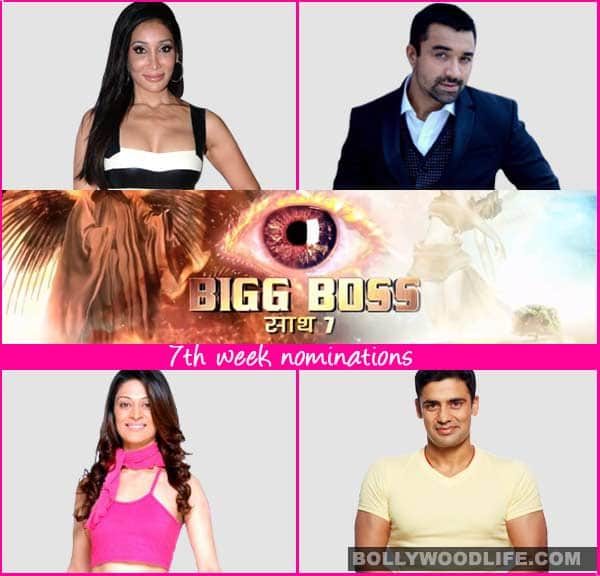 4 out of 11 housemates are in the danger zone this week.
When all the housemates were celebrating Diwali with Salman Khan who had entered the house to greet them personally, there came a time when all the housemates were taken by surprise. Looks like Bigg Boss was just way too bored of conducting nominations ki prakriya every week and therefore, he announced that this week's nomination process will be conducted by none other than Salman Khan himself. After all everyone including Bigg Boss needs a break, no? Though we all saw Salman pretending that he was not aware about this move from Bigg Boss, but don't we all know that whether it's his film or Bigg Boss 7, it is always Sallu bhai's call?
Anyway, Armaan Kohli being the captain of the house was safe while the latest evicted Apurva Agnihotri using the Bigg Bomb (special power) saved Gauahar Khan from this week's nominations.
The nominations ki prakriya which took place in the garden area instead of the confession room continued and all the housemates one by one were asked by Salman to take any two names whom they want to save this week. Sangram Singh saved Elli Avram and VJ Andy as he is close to these two in the house. Ajaz Khan saved Pratyusha Banerjee and Candy Brar. Gauahar Khan saved Pratyusha and Kamya citing the support she got from both of them during the whole Kushal tamashaa. Andy saved Sofia Hayat and Sangram. Kamya saved Pratyusha and Ajaz. Candy Brar saved Tanishaa Mukherji and Elli. Sofia saved Andy and Tanishaa citing their good nature. Pratyusha saved Kamya for obvious reasons and Elli. Tanishaa saved Elli and Andy. Elli saved Sangram and Andy citing her closeness to these two. And lastly Armaan being the captain of the house was given a special power by Bigg Boss and was asked to take any one name who will directly be sent to the danger zone. Therefore, Armaan took Sangram's name as he has not been nominated for a single time since the very beginning.
So the nominations process came to an end and Sangram Singh, Ajaz Khan, Sofia Hayat and Candy Brar were sent to danger zone this week.