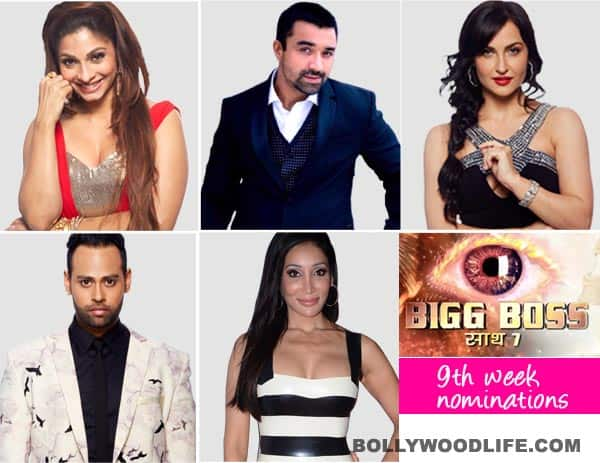 Five out of nine housemates are in the danger zone this week
Like every week, Monday calls for nominations inside the Bigg Boss 7 house and we must say that we were in for a double treat this week. Quite literally. Why do we say so, you ask? Because Bigg Boss after a very long time finally decided to bring a twist in the nominations process and for the first time introduced joint nominations in groups of two.
Bigg Boss asked all the housemates to divide themselves in pairs and remain handcuffed till nominations were complete. However seeing that the contestants were sticking to their friends, Bigg Boss decided to make his own pairs based on the equations that the contestants share with each other. In fact, VJ Andy and Armaan Kohli, who have opposing views and personalities were paired together, and the ever-warring Tanishaa Mukherji and Gauahar Khan were put together. Adding to this, pretty girls Elli Avram and Sofia Hayat were paired together and to incorporate some fun into this, the duo wore identical clothes and called themselves the BB twins. And lastly Ajaz Khan and Sangram Singh were made a pair.
The nominations ki prakriya continued and Bigg Boss announced that Ajaz is directly sent to the danger zone this week considering his weak performance in the luxury budget task. While Kamya being the captain of the house was safe this week.
Following this the pairs were asked to go inside the confession room one after the other and pick three names for nominations with mutual consensus and were also allowed to nominate each other.
Andy and Armaan nominated Sofia, Gauahar and Elli. Sofia and Elli nominated Tanishaa, Andy and Sofia (Elli's nominations). Sangram and Ajaz nominated Armaan, Tanishaa and Sofia. And lastly Tanishaa and Gauahar nominated Sofia, Elli and Sangram.
Kamya being the captain of the house was asked to openly nominate one person using her special power which will directly enter the danger zone. So Kamya took Andy's name citing the lame reason he gave during last week's nominations while nominating Pratyusha.
The nominations process came to an end and Tanishaa Mukherji, Elli Avram, VJ Andy, Ajaz Khan and Sofia Hayat were nominated this week.