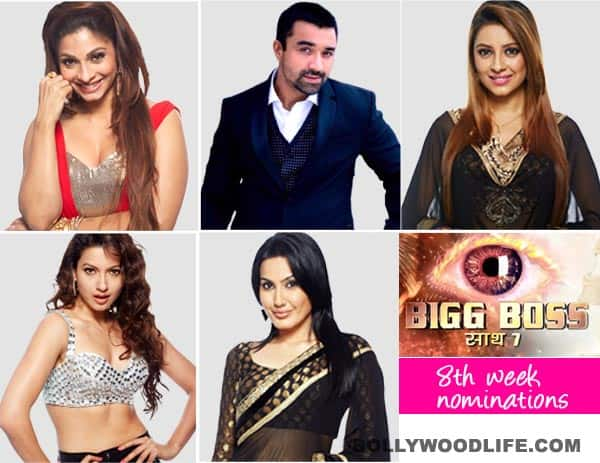 Five out of ten housemates are in the danger zone this week
Monday calls for nominations inside the glass walled house. Though Bigg Boss is known to add twists and turns in the nomination ki prakriya every week, we have to admit that from past few weeks, the nomination process in Bigg Boss 7 has been quite thanda. We and hopefully most of you are waiting for the open nominations, but it looks like that Bigg Boss is saving the best. But as they say, there is always a next time, no? Maybe we will hopefully see open nominations in the next week.
Anyway, let's come back to this week's nominations. As always, Bigg Boss makes an announcement regarding the nominations procedure and asks all the housemates to give two names they would want to nominate this week. Kamya Punjabi being nominated by evicted contestant Candy Brar, was already in the danger zone while Elli Avram being the captain of the house was safe from nominations this week.
One by one each housemate went into the confession room to nominate two people. Kamya nominated Tanishaa Mukherji because Kamya thinks that she passes personal comments which are hurtful, and VJ Andy citing his fake nature. Armaan Kohli nominated Ajaz Khan and Gauahar Khan. Pratyusha Banerjee nominated Sangram Singh and Sofia Hayat. Sangram nominated Pratyusha citing her immature nature, and Tanishaa citing that she does what others tell her. Gauahar nominated Andy and Tanishaa citing that they both are attacking her everyday and that they keep mocking her health issues. Andy nominated Ajaz and Pratyusha. Sofia nominated Pratyusha citing no bonding as the issue, and Ajaz citing his shirtless act. Ajaz nominated Armaan, citing his badmouth, and Tanishaa citing that she does whatever Armaan tells her. Lastly, Tanishaa nominated Ajaz and Gauahar.
Elli being the captain of the house was given a special power to nominate any one contestant who will directly enter the danger zone. She nominates Gauahar. So, the nominations ki prakriya came to an end and Tanishaa Mukherji, Gauahar Khan, Pratyusha Banerjee, Kamya Punjabi and Ajaz Khan were sent to danger zone this week.