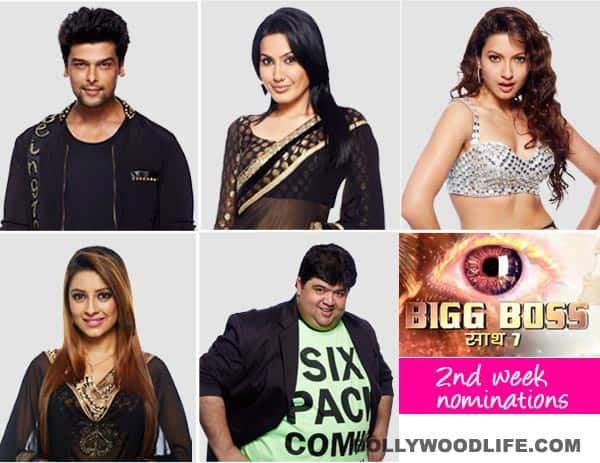 Four out of seven jahanum-wasis and one jannat-wasi entered the danger zone this week
Maha Monday of Bigg Boss 7 started with Rajat Rawail's tamaasha to grab eyeballs and in turn get some TRP's for the reality show. From crying in pain to showing his violent streak to getting all emotional, Rajat did it all to make yesterday's episode, a masaaledaar one! But unfortunately, the producer-actor failed miserably and …how. We were feeling really sorry for the man until VJ Andy revealed that Rajat told him that he will do something to make the episode dhamaakedaar. That's not all. When the doctors checked Rajat, they found that he was completely fit. This was enough to prove that Rajat's drama was just to get attention.
The nomination process took place like the previous week. Bigg Boss instructed that only jannat wasis are allowed to vote jahanum wasis. We are so sure that the jahanum wasis must be cursing Bigg Boss. The process began and jannat wasis went into the confession room to cast their votes. Armaan Kohli nominated Gauhar Khan and Kushal Tandon and blamed them for groupism in the house. Anita Advani also nominated Gauhar and Kushal. She was of an opinion that Gauhar has double standards while she has not had a good rapport with Kushal. Sangram Singh nominated Kamya Punjabi and Pratyusha Banerjee citing negative vibes from them. VJ Andy nominated Kamya and Pratyusha. Rajat Rawail nominated Gauhar and Kushal. Tanishaa Mukerji being the captain of the house had a veto power to nominate a housemate who will directly enter in the danger zone. Tanishaa nominated Rajat on the grounds of his medical..errr..psychological condition. We are sure Rajat must be wishing that he must have saved his TRP gaining bow for some other day. The nomination process came to an end and Pratyusha, Kamya, Kushal, Gauhar and Rajat were nominated.
Before we go on to tell anything else, we wanna ask you one question. Tell us how many couples are there in Bigg Boss house this year. We know you will say that there is only one couple and that is Shilpa and Apurva Agnihotri. But we did notice a strong bond between someone else too… Do you know who it was BollywoodLifers?