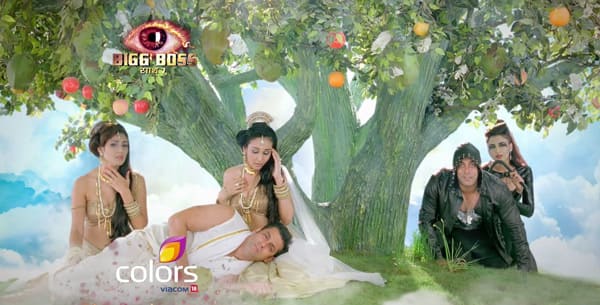 Yes, you read that right! The super host of the controversial reality show admits just that in this video, and also discloses the 'real' reason in…err… shuddh Hindi! Curious?
Each year for a while now Salman Khan has added his unique charm to the reality show Bigg Boss with his wit and humour. This year, Sallu and the makers have decided to take Bigg Boss 7 to new heights by incorporating a fun, new concept – Angel vs Devil. While angel Sallu represents the 'wow' of heaven, his devil form depicts the 'aow' of hell.
The video begins with the grand opening of two black and white gates, and two Salmans – one good and one bad – walking towards the audience and mouthing the lines of the promo. Sallu is deeply engrossed in getting into the garb of the two characters. For the show's promotion, an animated character asks the popular host what he prefers – jannat or jahaannum. Pat comes reply from the Mental star: jahaannum! The eccentric actor justifies his answer in shuddh Hindi: "Kyunki saare like-minded people wahin pe milenge!" On being asked whether which Salman will win, good or bad, the star comes up with a shareef answer: "Jo angel Salman hai, woh achcha karke hi badla lega."
"It's more of establishing heaven and hell as the concept for the entire campaign. The promo will show what exactly happens in heaven and hell," says Prashant Issar, the promo director. Watch the fun video capturing Sallu at his humorous best and tell us which avatar you prefer – angel or devil.