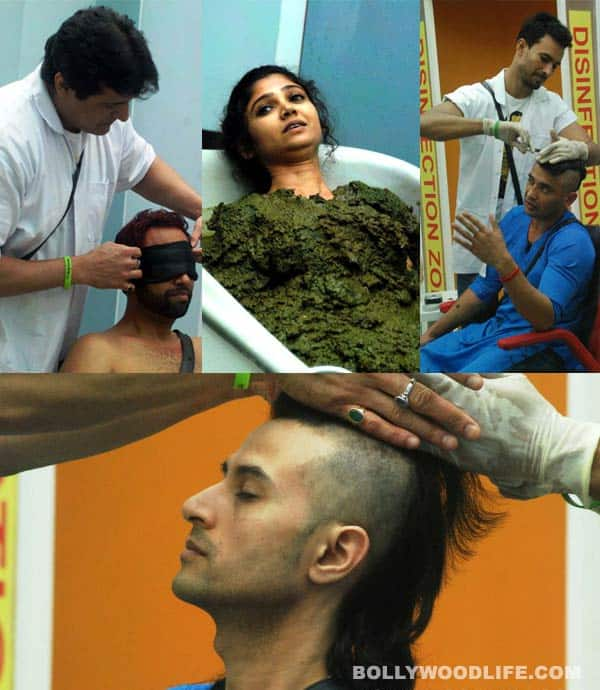 Bigg Boss showed us his wicked best this week with 'scientists and guinea pigs' task
After what we saw in the last two episodes of Bigg Boss 7, we really don't know that what Bigg Boss was up to. Either he was in a mood for some revenge or maybe he was just playing around with the housemates. Anyway, if at all Bigg Boss was in a revengeful mood, he took the proverb 'revenge is a dish, best served cold' very seriously. The task that was assigned to the housemates this week was 'scientists and guinea pigs' and no points for guessing, the heaven-mates were scientists and hell-mates were guinea pigs. As a part of the task, smoke was released in the house and everyone was asked to vacate the house. Then an announcement was made – the hell-mates were infected by a deadly virus and that they needed treatment that only the heaven-mates (doctors/scientists) could treat. From dunking in a bath tub full of cow dung to getting a weird haircut to getting a dose of electric shocks, the hell-mates did it all.
Dunk in dung
The first treatment that Bigg Boss came up with was to dunk in a bath tub full of cow dung. It was Elli Avram who was supposed to get this treatment, but after she refused, Ratan Rajput bravely came forward to do this task. Sitting in a bath tub full of cow dung and that too for an hour is no child's play. Kudos to Ratan.
The 'baal-i-daan'
Yes, we would like to call it as a 'baal-i-daan' because what Apurva Agnihotri and Sangram Singh did was no less than a sacrifice. Appearing on national TV with a weird hairdo is indeed a big deal. The Mohawk style haircut which is supposed to be cool and funky was not at all happening.
Buzz electric
Now we know how Pratyusha Banerjee has always been a delicate darling, yet she sat on a chair to get electric shocks, and looking at this, we had goosebumps. After she came out of that room, her lips had gone black due to those electric shocks. An attempt to do such a task is really commendable.
All we can say is that the people who entered the mad cap house with the intention of having some fun were clearly wrong on that front. After watching these two episodes, we must admit that it requires a lot of guts to be a contestant on the controversial reality show. Also this has been one of the wackiest tasks that we saw on Bigg Boss. All the housemates of Bigg Boss 7 , take a bow.