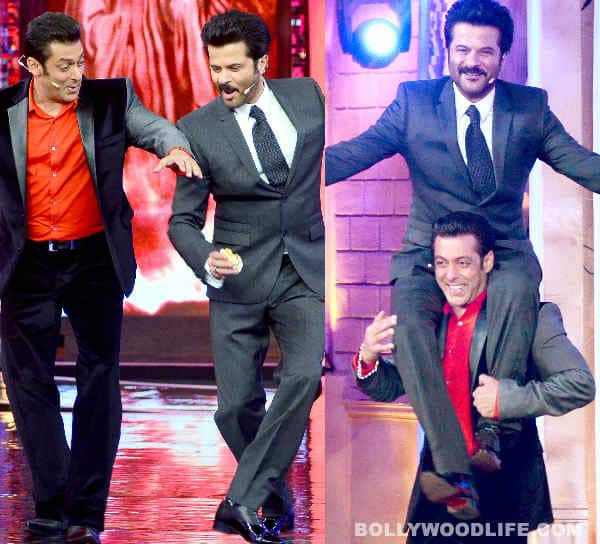 Ranbir Kapoor wasn't missed one bit on the Bigg Boss 7 sets, but RK Jr definitely lost out on a whole lot of fun…
Salman Khan and Ranbir Kapoor were supposed to be seen together on the Bigg Boss 7 stage on eviction weekend, but Ranbir's loss turned out to be 24 actor Anil Kapoor's gain. And we must say that the No Entry duo had a blast! It certainly was a delight to catch them in action – Salman and Anil danced together. The Wanted star welcomed the Tezaab actor on stage with his signature Ram Lakhan dance moves; their chemistry will definitely get some filmmakers to cast them together again…soon. If there's one actor other than Sallu who is growing younger by the day, it is the Welcome hero Anil, who looks better every day. The rapport between the dude-duo was awesome and they were at their animated best, whether it was Sallu touching his senior's feet or later carrying Anil Kapoor on his shoulders with ease. It was clear that SK has the utmost love for AK – we're sure not many would have that privilege, apart from a chosen few from the Khan family.
Anil got a grand welcome and we had a great time watching, and for all those of you who missed all the action on BB7 this weekend, here's a dekho at what it was like when the Biwi No.1 pair became Jodi no.1, especially after this episode. We give it a big WOW!