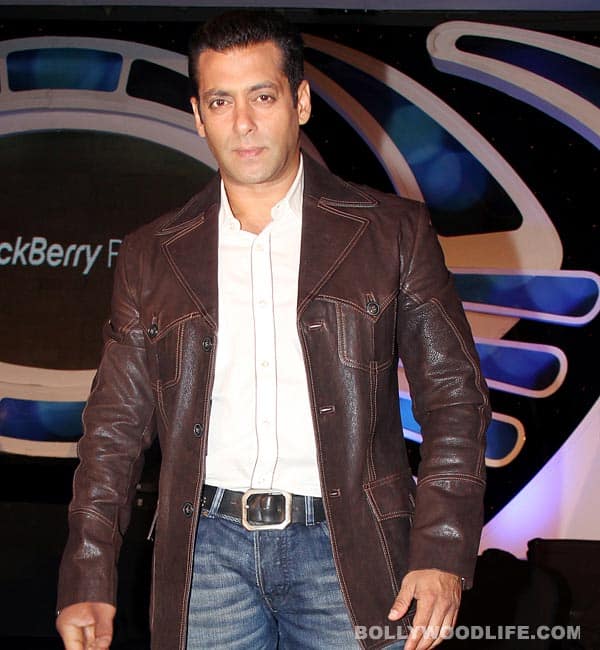 Fans of the Dabangg star have been fuming with anger thanks to his antics on Bigg Boss 7
"Salman Khan is incredibly unfair to Gauahar Khan", "So sad to see Salman Khan taking sides for people like Tanishaa and Armaan", "Salman is giving undue favour to Tanishaa", "Salman Khan is acting like the PR consultant for Tanishaa Mukherji and Armaan Kohli" – these are just few reactions of the many that we have received from ardent Bigg Boss viewers. And it's quite evident from these responses that Bigg Boss and Sallu fans are angry! Post the entire Gauahar-Kushal tamashaa and allegations of being biased, looks like the star is at the receiving end of public ire. Fans of Salman, who have idolised him for decades have vowed to never ever watch a Salman Khan movie again and there are others who said that the Wanted Khan should be glad that his film isn't releasing alongside Bigg Boss else it would have definitely bombed at the box-office.
We have been following Bigg Boss 7 very closely and have reported extensively on this high voltage reality show. Our stories based on Sallu's own tweets and the telecast episodes (Why is Salman Khan attacking Gauahar Khan?, Is Salman Khan trying to justify himself?, Angry Salman Khan asks fans to refrain from watching his show!) have actually fired a debate where fans of Bollywoodlife and Bigg Boss have posted their thoughts. Here's a dekho….
Pravina Kaul – "First of all Mr.Salmaan Khan You have opted to be the Host of the Show.As a host you are bound by certain rules.One main rule I feel is being a Fair and honest person.Your personal relationship with any of the Contestants should not come in the way of any game.You are a mature enough person.Like a spoilt child don't sulk and complain.It is disgusting watching you insulting Gauri khan.They are playing game.just because someone is your favorite and fascinates you does not excuse you pointing out some silly things.You cannot excuse Urself saying u have seen Tanisha grow up.In the first place u should not have allowed her or any such contestant to participate.Do u feel u should behave like this.We were so fond of u.But now u fallen down in our eyes.I hope u realise what u are doing"
Aarti – "If he doesn't want to hear criticism then it's sure that he is biased to 3 persons. It's really looks odd seeing his naked preference towards Elli"
Kwalder – "Salman is taking a dig at Gauhar and keeps mentioning Kushal. He loves Elli and Tanishaa.. I was a huge fan of his, but he has let me DOWN.
Anon – "What rubbish!!! He was asking his fans to stop watching Saturday and Sunday episodes coz they called him unfair. Hope the channel bosses are now reconsidering Salman hosting Bigg Boss again and getting a more sensible and mature host"
Blu Best – "Salman Khan is incredibly unfair to Gauhar Khan. I was a fan of Salu but now I think he is a waste of space and calls himself "Being Human" and talks about respecting women which he has never done with his girlfriends. Now is chasing Elli but soon she will think the same about him as Katrina thinks"
Sonia – "ALERT !!!!!!!!!!! KUSHAL FANS…. PLEASE COPY MY MESSAGE AND PASTE AGAIN IN COMMENT SO THAT EVERY1 MUST KNOW WHY KUSHAL WAS ANGRY : Andy asked Gauhar, "Since your bra and panty are hanging outside, what are you wearing inside?"Andy commented on Gauhar Khan's panty fabric and bra size…GUYS WHAT YOU WILL DO WHEN THIS HAPPENS TO YOUR PEOPLE??? WILL YOU BEAT HIM OR LOVE HIM???? KUSHAL NE GALTI KI??? THIS FOOTAGE WAS CENSORED BY BIGG BOSS.  ANDY KI JAGAH AGAR SALMAN KHAN BHI HOTA, TOU KYA AAP APNE BAHEN YA MAA KI AISE INSULT BARDASH KARTEY GUYS???? THEN WHAT WRONG KUSHAL DID???? TEL ME HONESTLY…. IF I WERE KUSHAL I MIGHT HAD KILLED ANDY…………….WE WANT KUSHAL BACK BIGG BOSS WITH ALL DUE RESPECT! Salman Khan doesn't mind people talking about his sisters or mothers under garments he's cool about it. Being Human!!!!!!
Sunny – "Salman is giving undue favour to Tanisha. I've personally felt that Gauhar's confidence and guts along with her ability to stand firm on any situation is somehow not digested by Tanisha and this is the reason Salman is after Kushal and Gauhar. There have been situations earlier also where such small violence acts have been. Even women are disrespected far badly than this season. But none of the instances show Salman slamming anybody. Why this time ??? Salman…please…you have a lot of fan followings…don't tarnish your image by this damn show….be neutral as you were in other seasons and you will be loved again"
These reactions certainly show that Bigg Boss fans aren't happy with television's most popular host. Looks like Salman needs to take a cue from his fans comments and win their hearts yet again. BollywoodLifers, Do you think Salman Khan needs to change his hosting style on Bigg Boss 7? Do tell us!