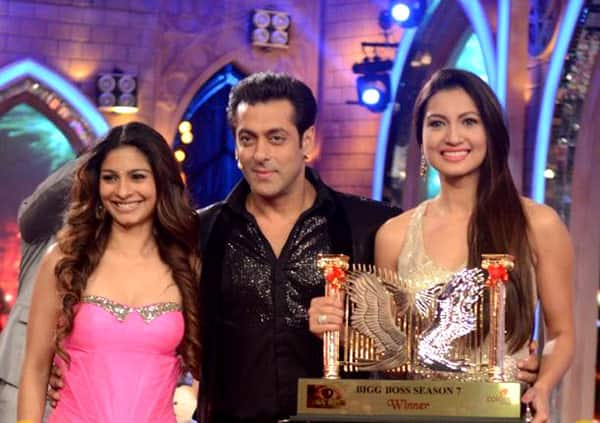 Tanishaa talks about her journey in the Bigg Boss 7 house, Armaan Kohli, family and so on
Tanishaa Mukherji grabbed headlines long before she decided to be a contestant on Bigg Boss 7. It was rumoured that Tanishaa's mother Tanuja and elder sis Kajol were not happy with her idea of participating in the high voltage reality show, but in spite of all the unwillingness to support her from her family, Tanishaa decided to contest. And we must say it has paid off, but not completely. Tanishaa has failed to beat Gauhar Khan and has emerged as the first runner up. We caught up with the Mukherji gal post the Grand Finale and here is what she had to say…
You were so close to winning the show, but ultimately Gauhar took away the coveted title. Disappointed?
Honestly I am fine because I didn't expect to win. I was nominated for 8 times and my opinions in the house were not good for me. So just being in top two was a big deal for me. I just want to say that I have earned a lot from the Bigg Boss house. I got a lot of love from people both inside and outside the house because they saved me in all the 8 nominations and made me reach till here. Yes, definitely if I would have won, I would be very happy, but it's okay yaar. There is lot in store for me after this show.
Did you expect Gauhar to win the show?
Right from the beginning, I thought Gauhar would win the show.
You saw your mom after 105 days, how did you feel?
It was really emotional for me. When she looked at me, I thought, I will cry soon, but Salman (Khan) sir held my hand and said that I have to be on the stage. When my mom said that I am the winner for her, that's the moment when I won the show.
Your family made no contact with you all the while you were in the house. Did you expected your mother to be there at the Grand Finale?
I sincerely didn't expect anyone to be there. Yes, I missed them a lot. Considering the family I come from, I didn't want them to come anywhere which doesn't suit them unless it's for a specific reason.
There were reports that your family is upset with your closeness towards Armaan. Do you see a future with Armaan?
Honestly, Armaan is my best friend and he supported me a lot in the house. My family is not at all upset as far as Armaan is concerned.
There were multiple occasions when Salman Khan used to take digs at Kushal and sometimes on Gauhar as well. He was seen supporting you and Armaan a lot after which his fairness as a host was being questioned…
He was not at all biased. He has not reached at this stage without being the person he is. He knows Gauhar more than he knows me which he himself said in an episode. So not at all I found Salman Khan biased, I found him extremely fair.
Are you sad that only your closeness with Armaan has become the focus of your journey in the house?
It was a big risk for me to come on this show considering that I come from a big family and considering that there is constant media attention on this show. So you have to take good with the bad. If media wants to write then they will write. It's their opinion, but that doesn't mean it's true, they were not inside the house, right? If they would have been inside the house and had written such stories, I would be affected. So yeah, I am not sad at all.
Do you think Bigg Boss will revive your career?
More than Bigg Boss, I think it's the love of people which will do a lot for my career.
You were physically affectionate to all your friends inside the house. Didn't that bother you since there were 84 cameras inside the house…
I went inside the house as a true person. Yes, I am physically affectionate towards my friends and that's me. That's the way I am in real life as well. And I have no regrets about my journey in the house.