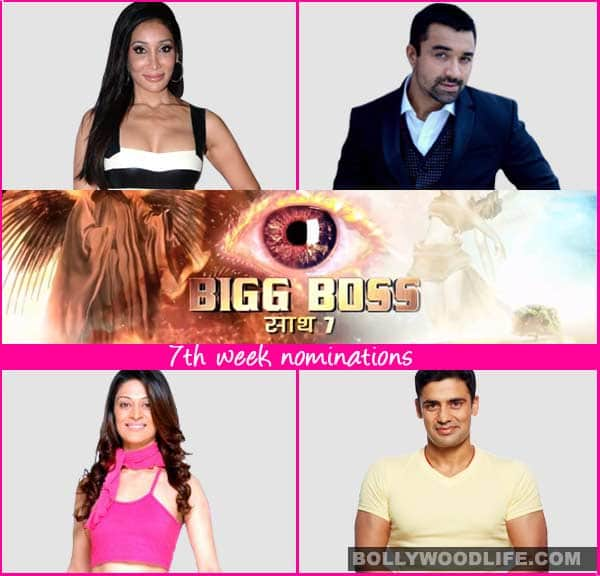 Four out of the 11 housemates left inside the house are in the danger zone this week. Who do you think should be eliminated? Tell us….
Looks like Bigg Boss was just way too bored of conducting nominations every week and hence decided to give that responsibility to the host of Bigg Boss 7, Salman Khan. Yes, you heard right! Salman, who entered the house to greet all the housemates on the occasion of Diwali, was asked to conduct the nominations ki prakriya on Bigg Boss 7 this week. After the process came to an end, we saw that that Sangram Singh, Ajaz Khan, Candy Brar and Sofia Hayat were in the danger zone.
After having escaped being nominated since the very beginning of the current season, Sangram was finally chosen for the first time this week. The well-muscled boyfriend of actor-model Payal Rohatgi has been accused by various housemates of playing dirty politics in the house, but claims to be clean and nice. Will he stay or should he leave?
Candy Brar (ex-flame of Kushal Tandon and wild card entrant) was brought into the house to add zing to Kushal and Gauahar Khan's love story. But unfortunately, before she entered the house, the Kushal-Andy tamashaa happened and Tandon was dismissed from the house. With that, all the plans the makers had cooked up to add spice to the show fell flat. Now Candy is neither providing any content nor adding glamour to the show. So will she continue to stay or will she be shown the exit door by the audience?
Ajaz entered the house as a wild card entry and his motive was very clear. His presence was to create fights between the housemates and we must say that he has been successful in provoking people to start sniping at each other. Also, Ajaz has already been in an ugly verbal spat with a few of the inmates of the house, thus giving the makers the content they were looking for. But will he stay on?
Sofia, who entered the house recently, came up with some controversially colourful statements before entering the glass walled ghar, which made us pretty sure that she would go a long way. But somehow she seems to be lost in the politics of the game, and so has added no extra oomph to the show. Will she remain a contestant on Bigg Boss 7?
Vote and tell us – of these four contestants, who should be eliminated from the house?