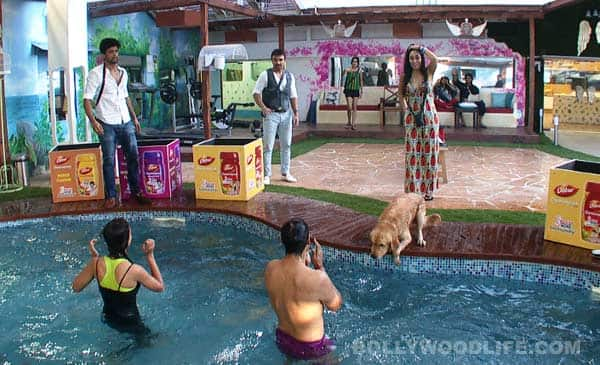 Captain of the Bigg Boss house is undoubtedly the most coveted title and VJ Andy has been deprived of this title for the past 10 weeks
In tonight's episode of Bigg Boss 7, celebrating the success of the completion of the task, Bigg Boss will announce that the housemates have to nominate two contestants who have been the best performers in the luxury budget task. The selected people should also be the ones who have actively participated in the house work. The housemates will then have to write the names and put them in a ballot box. When the votes are counted, it will be revealed that Andy and Gauahar Khan have received the maximum votes.
Bigg Boss then will announce a task specially designed for the top two contestants of which, the winner will be declared as the next captain of the house. As a part of the task, 65 bottles of chyawanprash of different flavours will be placed on the floor of the swimming pool. Both Andy and Gauahar will be required to get inside the pool, collect as many bottles as possible and throw them in the boxes that were kept near the pool. Each of them will be allowed to choose one partner who will help them to put the bottles in the box. The person who collects the maximum number of the bottles will become the new captain of the house.
The task will start as soon as the buzzer goes off and both Andy and Gauahar, jump inside the pool and start collecting the bottles. What will follow next can only be described as a stiff competition between Andy and Gauahar. So, will Andy's dream of becoming the captain of the house finally come true? For this, you will have to wait and catch the episode tonight!
But before that tell us do you want VJ Andy to become the captain of the Bigg Boss 7 house?