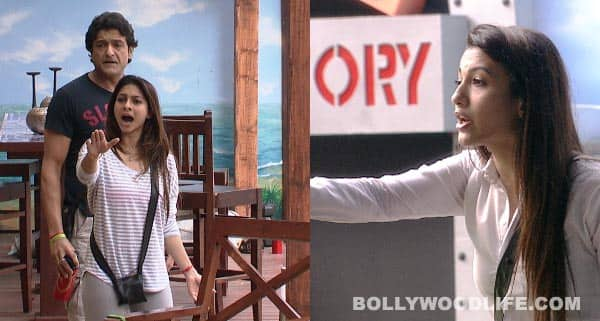 The fiercest rivals in the Bigg Boss 7 house get into an ugly verbal spat tonight. Who will win? Find out…
As you all saw, Gauahar Khan was elected Captain of the Bigg Boss 7 house once again, after defeating VJ Andy. And it's quite evident that she has been very happy and proud about this particular accomplishment. However, little did she know what was in store for her this time around, with the luxury budget task taking an ugly turn. Under the supervision of Gauahar, the task not only saw some grimy personal statements being aired, but has also put her in a bad spot, where her leadership skills are being questioned.
Tonight's episode of Bigg Boss 7 will mark the second day of the task. Yesterday, Kushal Tandon and Armaan Kohli got into a war of words with each other, today plays witness to a ugly verbal spat between their respective 'significant others' – Gauahar and Tanishaa Mukherji. During the task, Tanishaa – as always – blames Gauahar for being biased and failing to control team members who resort to cheap tactics in order to win the task. The war will be prolonged and intensified when Tanishaa makes fun of Gauahar's health. To top it all, Gauahar will also have an argument with her closest female friend Kamya Punjabi, who has been very upset because of the behaviour of people in her team. Even though Ms Khan tries her best to take control of the various situations that arise during the course of the task, the fights and squabbles will continue and, by the end of the day, all Gauahar can do is to cry on her boyfriend Kushal Tandon's shoulder.
With the housemates criticising Gauahar's leadership qualities, will the ever enthusiastic model-actor be able bounce back to her normal happy self? Wait and watch…