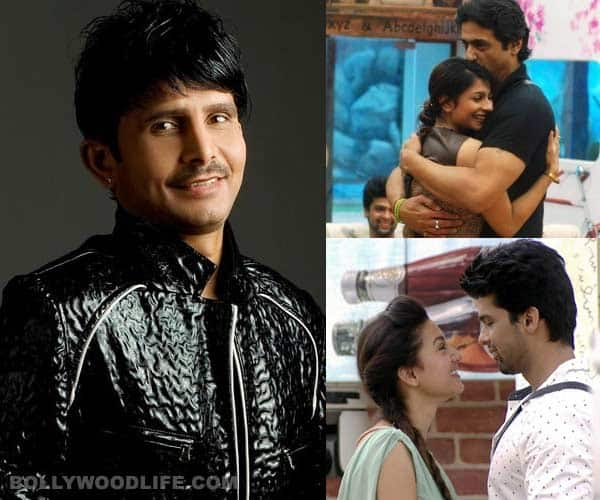 Ex-Bigg Boss contestant and movie critic KRK reveals a few bathroom secrets. Do you believe him?
If you have been watching Bigg Boss 7, you must have noticed that the washroom in the house plays a vital role in the love lives of two couples – Tanishaa Mukherji-Armaan Kohli and Gauahar Khan-Kushal Tandon.
Gauahar and Kushal are often seen ironing out their differences locked together in the washroom, while Armaan and Tanishaa joined the league recently when the two were locked inside the loo for a few minutes. The washrooms are the only place where these lovebirds, who are 24×7 forced to live – and love – under the scanner get some privacy. But what do these couples do inside that private area? Do they just talk, or is there…err…more going on? We have no idea, but former Bigg Boss contestant and avid follower of the show Kamaal R Khan (KRK) insists he knows what happens inside those close confines.
Known to be vocal about anything and everything, KRK tweeted that the lovebirds of the house have sex in the washroom. "I just want 2know why parents of these shameless ppl don't commit suicide before seeing their children having sex on national TV? I can't believe tat girls n boys r having sex in washrooms in #BiggBoss7 N producers r showing on national TV. Ye Kis behaya family se hain," the Bhojpuri actor said.
KRK even cited the incident when Armaan helped Tanishaa to carry a bucket into the washroom. Later, the two were locked inside for a few minutes. The spectators could also hear the sounds made within when the microphones were being deactivated by the duo. Kamaal tweeted, "Even Tanisha ne aaj mukharji family ki waat lagadi. Ye pani ki balti andar bathroom main lekar aona. Kya #BiggBoss7 dekhne wale bacche hain?…" And he didn't stop there: "These duffers don't know tat there is no camera in washroom but there is mic, so all oh yah, oh ya baby, kiss me baby can be heard!", the motor mouth tweeted.
We agree that lovers need to spend private moments together, but have they forgotten the fact that they are on national television? You tell us, peeps – do you agree with KRK that the lovebirds are crossing the line?