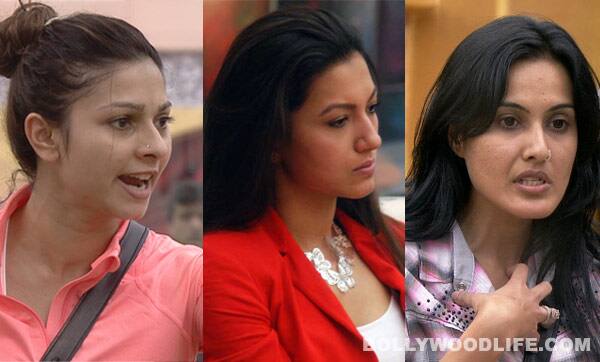 Yet another cat-fight will happen on tonight's episode of Bigg Boss 7… really!
Nine weeks have passed in the Bigg Boss 7 house and the race to be the best is getting more intense each day. Everyone wants to be numero uno and come out as the winner in every task. But at the same time, this is also creating differences amongst the housemates and leading to nonsensical conflicts. In tonight's episode of Bigg Boss 7, after the commando task comes to an end, Bigg Boss will call Kamya Punjabi in the confession room to decide on two names that will fall into the category of the worst and the best in the contest, with consensus. The housemates opt to elect people through a voting system going around the room. Unlike others, Kamya demands to be considered as a contender for the best performer, as she believes that she has won the maximum points for the team. However, other housemates including VJ Andy, Gauahar Khan and Tanishaa Mukherji will not agree with her and try to explain that they have lost out on their share because of her secret task. Kamya will refuse to agree with them and continue propagating her performance. Apart from Kamya, three other housemates – Gauahar, Tanishaa and Sangram Singh – will also be considered for the No.1 position. Later, Sofia Hayat will also join in and want to be considered for the top slot. After much discussion, the housemates decide to elect Kamya and Sangram as the best performers, while Ajaz Khan and Pratyusha Banerjee will be declared the worst. But a twist comes in when Tanishaa realises that apart from her, Kamya and Gauahar have also received equal votes, after which the choice gets tougher. While on one hand Kamya tries convincing Gauhar to be on her side to win over Tanishaa, on the other Armaan Kohli tries his luck with Sofia by requesting her to change the vote and give it to Tanishaa instead.
After all the arguments and misunderstandings, who will become the best performer and win this race? Wait and watch out!