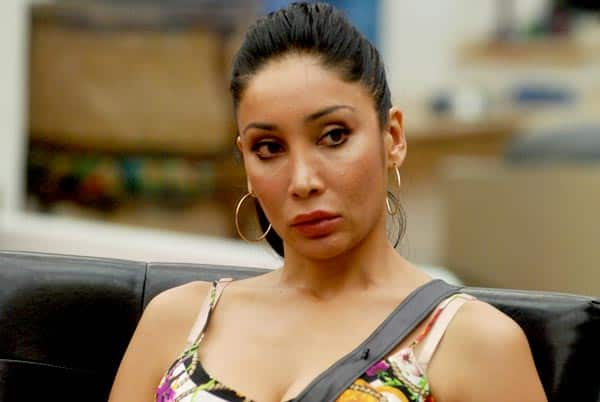 Sofia is the latest contestant to have been eliminated from Bigg Boss 7
Sofia Hayat entered the Bigg Boss 7 house as a wild card entrant a few weeks back. This British singer-cum-actor came into the glass walled house with a lot of spunk and never-say-die attitude. However her journey in the high voltage reality show came to end yesterday. We caught up Sofia (on phone) post her exit, and here is what she had to say:
How would you describe your experience in the Bigg Boss house?
I had never watched a single season of Bigg Boss and had a very little idea about what I was getting into. But at the end of my journey in the house, I have learned a lot of things and was able to sail through all the testing times.
What was your motive behind entering the house?
There was no motive. Makers of the show wanted me to participate. They called me twice and asked me to come on the show, but since I was busy shooting in London, I refused to come. But when they finally called me for the third time, I said yes because then I had wrapped my work.
Any regrets?
Yes. I regret not slapping Armaan Kohli.
Before entering the house, you had said that you wish to do an item number with Salman Khan. Did you tell him about this wish?
(Laughs) No, I didn't. I leave it on the destiny now. If it is bound to happen, it will happen.
There are two couples in the house right now. Whose relationship will last even outside the house?
Kushal (Tandon) and Gauahar (Khan) are going really strong. So I think their relationship will last. Armaan and Tanishaa's (Mukherji) relationship is fake as far as Armaan is concerned.
So are you saying that their relationship is just for the TRPs?
Tanishaa has some sort of feelings for Armaan, but Armaan doesn't have any feelings for her. He is faking it and he is using Tanishaa to go ahead in the game.
What's your take on Kushal's comeback? Do you think he deserves to return to the house?
I think he shouldn't have left the house in the first place. His dismissal from the house was very unfair. If Kushal can be dismissed from the house after attacking VJ Andy, then why was Armaan not thrown out of the house after he hit me with the stick? That's really very unfair. Armaan's behaviour towards me was very disgusting.
So don't you think that the makers are being biased towards Armaan?
Yes they are. I don't know what's the reason behind it, but he was supposed to be thrown out of the house as he physically attacked me. That is against the rule of the show.
There were rumours that Tanishaa and Armaan were caught naked inside the house. Is it true? 
I never saw something of that sort. There are 84 cameras inside the house keeping a watch on us all the time. So I don't think they would have actually dared to do something like that unless they are very desperate to do it.
Given a chance, would you like to enter the Bigg Boss house again?
Ummmm. If Armaan Kohli won't be in the house, I would like to enter the house again. I don't want to stay with that man under one roof.
Who are your favourite people in the house?
Kushal and Gauahar. They have supported me a lot throughout my journey in the show. Yes, I had a fight with Kushal once, but we sorted that out and all was well between both of us again.
Who according to you deserves to win Bigg Boss 7?
It has to be Gauahar. She is a sweetheart.
What about Sangram Singh? You got along well with him as well, right? 
Yes. He is very sweet. However there are times when he tends to switch sides. But I am very grateful to him in whatever way he has supported me.
So now that you are out of the house, will we see you in a Bollywood movie or in any other reality show very soon?
Yes. I have just come out, so I will figure out things here. Also I have some pending shoots in England, so I will go back and complete that first and I'll see where my life takes me.