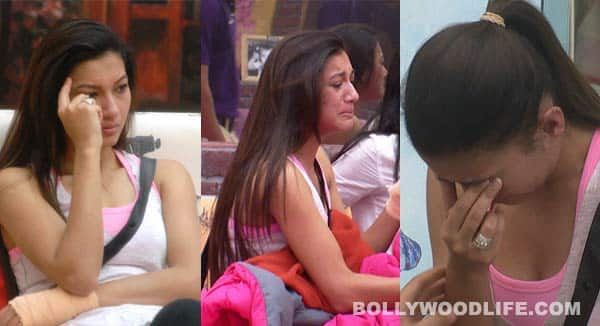 Gauahar will break down in tonight's episode of Bigg Boss 7
The luxury budget task Chor-Police will come to an end and the housemates will breathe a sigh of relief in tonight's episode of Bigg Boss 7. However, just as they think, that they have successfully completed the task assigned to them, Bigg Boss will introduce another twist leading to an additional secret task for the chor gang. Bigg Boss calls Kamya Punjabi to the confession room and, with reference to the task, gives her some cue cards along with two trays that are labeled 'Return' and 'Give Away'.
Each cue card has the names of the items that were stolen during the course of the task by VJ Andy, Sofia Hayat, Tanishaa Mukherji and Ajaz Khan. Kamya will be asked to read out the names on the cue cards to these four 'chor' contestants who then divide them between the two trays after arriving at a mutual consensus. The items that they decide to put in the 'Return' tray will be returned back to the contestants while the ones in the 'Give Away' tray will remain with Bigg Boss even after the completion of the task. This will be positioned to the contestants as an opportunity to earn extra points for the team based on the items that they choose for either tray. As all the items are personal belongings of four 'police' contestants, it becomes quite tough for Andy, Sofia, Tanisha and Ajaz to arrive at a decision. However, after much contemplation, they will decide to give away Elli Avram's lip gloss, Armaan Kohli's towel, and Gauahar Khan's photo frame along with a white coffee mug to earn an additional 1000 points.
When Bigg Boss will reveal this secret task to other housemates, Gauahar is shattered to hear that her personal belongings with which she is emotionally attached are sacrificed for a few extra points. She further taunts Tanishaa, Ajaz, Andy and Sofia over their decision and sheds some tears. She also refuses to take part in the luxury budget discussion and rushes to the washroom. While it is not in anybody's control to get the items back after the final decision has been taken, Andy, Ajaz, Sofia and Tanishaa express deep regret for their decision.