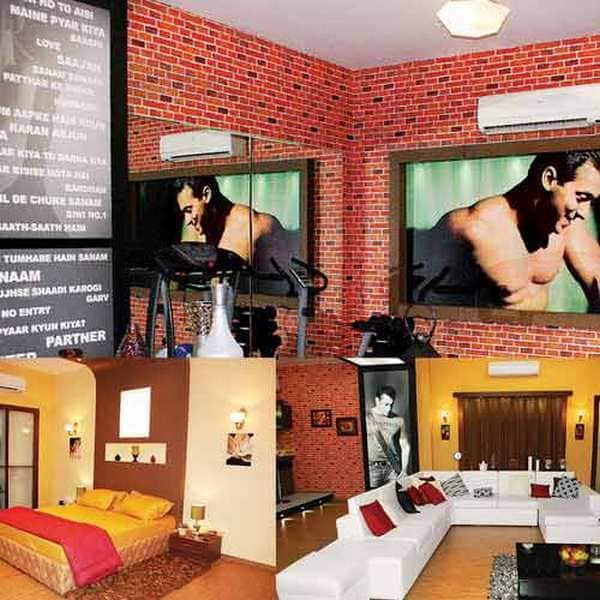 This is where the actor lives while shooting for Bigg Boss 7 in Lonavala
It is easier to design for Bigg Boss house than Salman Khan's chalet because there's absolutely no brief about what the superstar-host wants," declares Subhajyoti Dutta, who has been designing it for the last four years.
The rooms
The 3,500 sq feet chalet comprises a living room, gym area, bedroom, bathroom, kitchen, relaxation room, garden and a kennel for Salman's dogs. What draws attention are the huge life-size posters of the superstar on the brick wall and the names of all his hit films written on a blackboard.
"Yes, that was the first thing I decided along with Endemol (production house) and Colors," says Dutta. The gym has dumbbells, cycle and walker which are a must for Salman, who is a fitness freak.
The decor
The living area is completely modern with the colour palette being white and red for the sofas. Vibrant colours have been used to complement the white decor. The rooms are designed in such a way that Salman is visible to the outsider from every room.
"Whether he's in the gym or living room, he can always converse with people," says the designer.
Salman's favourite area is the verandah where he loves to sit with his team and even has his meals there. "This time we have put up a roof over the verandah because he asked. Salman spends most of his time on the verandah," informs Dutta.
A special attraction is the gazebo, which was created last year too. "He liked it so I made it this year too. When he saw it he asked for the centre table which I had done away with this year. On his request, I brought it back," he concludes.
Text and photo exclusive to DNA