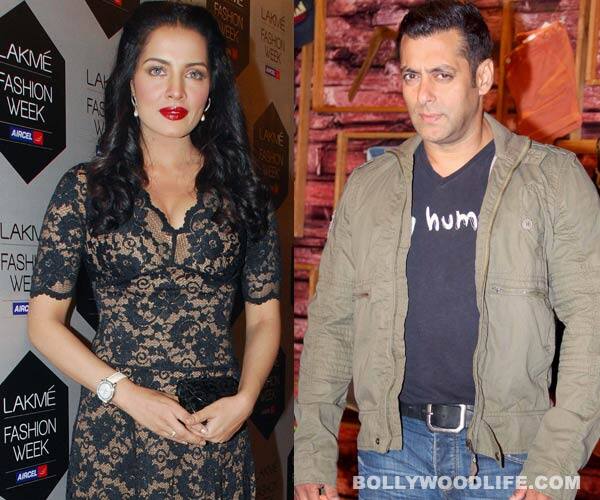 Celina is apparently disappointed with Salman's insensitive nature
We know how outspoken Salman Khan is and that he doesn't think twice before voicing his opinion on any matter. And it looks like bhai's insensitive nature has irked a certain Celina Jaitley. Being a spokesperson for LGBT community (Lesbian, Gay, Bisexual and Transgender), Celina feels disappointed with Salman and few of the Bigg Boss 7 contestants who openly talk against homosexuality on the show. "I am sad to see the open homophobia by few of the contestants in the Bigg Boss house. While we all know that the views or opinions expressed by the housemates are their personal choice and does not represent a community, show, host or the channel. Regrettably, they cannot even control the chauvinism of certain participants. I believe they should be openly warned on the show. And the message sent out that the channel and producers want no association with such slurs. The contestants should definitely be made to apologize to the members of the LGBT community.", said Celina in a recent interview.
When Bigg Boss 7 was in it's initial days, we had seen how the host Salman Khan had targeted Andy and made homophobic comments regarding his chemistry with co-participant Sangram Singh which created quite a rumpus among LGBT community across the nation. That's not all. A compilation of scenes between these two men, was aired on the show and Salman was seen giggling at them. The video went viral on the Internet with several people from the gay community saying that a superstar like Salman should have been more careful as this shows him to be anti-gay and homophobic. The video contained several scenes of Andy and Sangram touching each other, cuddling and talking, and, to hammer home the point, ends with Andy pressing Sangram's thighs.
Well, we know that India is a free country and we all have freedom of speech and expression but Sallu bhai needs to think twice before voicing his opinion as he may get into a deep big trouble (not that he is not in the pool of troubles now).