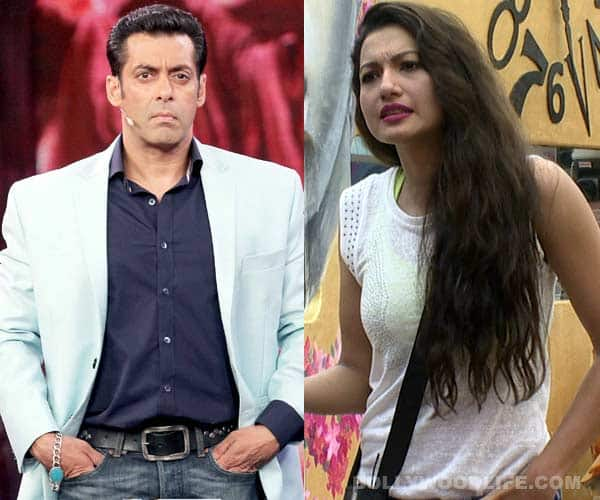 Salman got into a verbal spat with Gauahar yet again
Though Salman Khan tried his best to play a fair host in Saturday's episode of Bigg Boss 7 by not taking anyone's side this time, but his displeasure with Kushal Tandon for giving interviews about the actor apologising to him was clearly evident. But it's Salman after all. He would not want someone to tarnish his image and get away with it, right? Clearing the air, Salman revealed that he had apologised to Kushal after his exit as a gesture of politeness and it was not fair on his part to create a molehill out of it.
Then Salman went on to ask all the housemates that if they want to see Kushal back inside the house to which Gauahar Khan, Kamya Punjabi and Pratyusha Banerjee said yes. Salman also said that he has no issues if Kushal apologises for his violent behaviour and comes back to the glass walled house, while Armaan and Tanishaa were quick to say that if Kushal comes back in the house after committing such a violent act, it will be against the rules of the Bigg Boss house and they won't feel safe with such a "volatile" person around them.
This obviously didn't go down well with Kushal's lady love Gauahar Khan who said that Armaan had been abusive several times despite repeatedly saying sorry for his behaviour and that many people have passed comments about her which she has ignored. Phir kya tha? A war or words took place between Gauahar and Salman yet again in which the Dabangg Khan reminded Gauahar that she too had made personal comments against Elli Avram for being selected as the opposition team's leader on face value during the Rajneeti task. But thankfully this time the verbal spat between these two was short lived and they didn't blow it out of proportion like last time.
Well, after all this, all we have to ask is that why is Salman Khan attacking Gauahar everytime? Does Salman hate Gauahar? What do you think peeps?