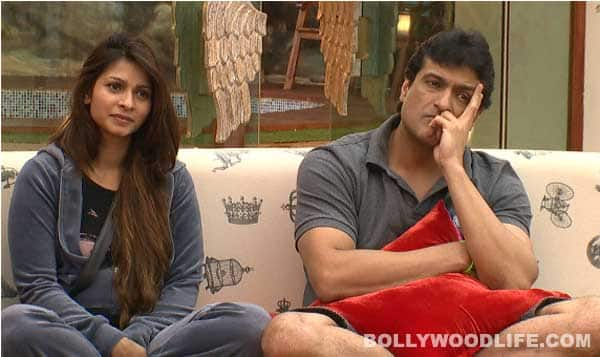 The romance between the two lovebirds of the mad cap house is facing rough weather these days
Armaan Kohli and Tanishaa Mukherji's growing romance in the Bigg Boss 7 house is no news. TanMaan (that is what their fans call them) were often seen getting intimate with each other in the glass walled ghar. So intimate, that a picture of these two lovebirds sharing a lip lock (not in public view of course) became viral on the web. But looks like their relationship has gone kaput. Courtesy Armaan's hot headed nature. Armaan is often seen snapping at Tanishaa and is misbehaving with her like he does with other housemates. But even after so much bullying from Mr Kohli, Tanishaa is always seen taking his side.
Looks like Tanishaa is not aware of the term 'self respect'. Because a woman with self respect would not at all support a man who never thinks twice before insulting her on national television. Looking at Tanishaa's behaviour, she strikes us as Armaan's 'wife' rather than a 'friend'. It seems Ms Mukherji is hanging on to Armaan, desperate for his love and attention. Whereas Armaan is least bothered about this 'miss goodie two-shoes'.
Well, all we can say is that it's high time that Tanishaa changes her behaviour towards Armaan. What say you peeps?