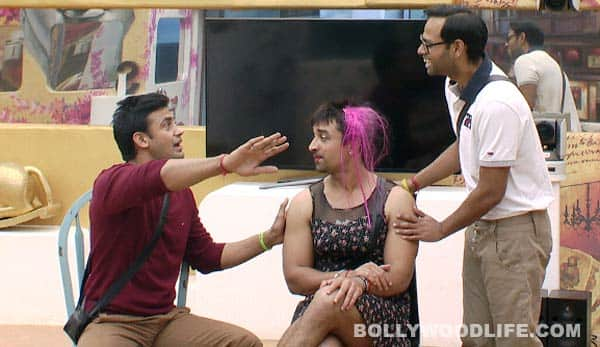 It will be celebration time in tonight's episode of Bigg Boss 7
For the past few days the Bigg Boss 7 housemates have been indulging in verbal spats, leading to misunderstandings and grievances. But finally, after all those disputes in the glass walled house, the housemates will get an opportunity to celebrate, leaving behind all the differences that have developed between them. To give them a much-needed break from all the drama, Bigg Boss will decide to bring their smiles back by giving Ajaz Khan and VJ Andy a secret task in tonight's episode of Bigg Boss 7.
The two men will be given the responsibility of bringing everybody together and getting them to bond over a laughter session. Following the orders of Bigg Boss, Andy and Ajaz will come up with the idea to entertain the housemates with a fun-filled chat show. Sangram and Andy will be seen as the hosts of the show while Ajaz will dress up as a woman and call himself Haseena. Andy and Sangram will kick the chat show off on a hilarious note, where they will take digs at everyone, leaving them in splits, while Ajaz will totally steal the show with his funny 'lady' anecdotes.
Later in the evening, Bigg Boss will call Andy and Ajaz into the confession room and inform them that they have successfully completed the task. As a reward for their victory and on the occasion of Sofia Hayat's birthday, Bigg Boss will arrange a party for the housemates in the garden area. As the clock ticks 12, the housemates will surprise Sofia as they will drag her to the garden. Sofia will be overwhelmed to receive so much love and affection and thank everyone endlessly.
Finally our eardrums will get a rest tonight. But will the housemates be able to let go of all their differences for good, or will they cling on to them amidst all the merriment? Let's wait and watch!