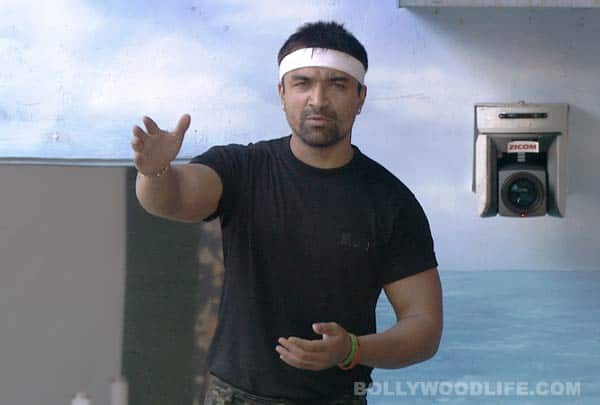 Ajaz will be seen getting into a war of words with Sofia in tonight's episode of Bigg Boss 7
Ajaz Khan is known for his brash behavior and snide remarks that obviously do not go down too well with the other housemates of the glass walled  house. Time and again, he has been advised by Gauahar Khan and Pratyusha Banerjee to mend his ways and get a hold on his tongue. But there has been no change in his attitude whatsoever. In tonight's episode of Bigg Boss 7, after Armaan Kohli, Ajaz's new target will be Sofia Hayat. Following the secret task that Bigg Boss will assign to Kamya, to be an anti-hero and act tough with the commandos, she will punish Ajaz for misbehaving with Sofia and ask him to stand in the pool. Ajaz will initially refuse to accept the punishment but out of compulsion, he will have to do it.
After staying in the pool for couple of hours, Ajaz will be seen getting very restless and come out of the pool without Kamya's consent. Looking at this, Sofia will yell at Ajaz and ask him to go back inside the pool or else the other housemates will have to bear the brunt. Even after all this, Ajaz will decide to stay outside the pool. Seeing this, Kamya will ask Ajaz to resume or the whole team have to stay inside the pool. Sofia will keep on insisting Ajaz, which irks him and in return he will blast Sofia. This eventually offends her as Ajaz gets personal. The verbal spat between the two will take a turn for worse when he asks her to keep her mouth shut. Sofia will not appreciate the way Ajaz spoke to her and breaks down. Sangram Singh and Gauahar will intervene and ask Ajaz to stay within his limits and not go overboard.
After all this, we wonder if Ajaz's offensive behaviour get him into trouble with Bigg Boss? Or worse. Will he be eliminated this week considering he is already in the danger zone? Only time will tell. Keep watching this space for all the updates on Bigg Boss 7.