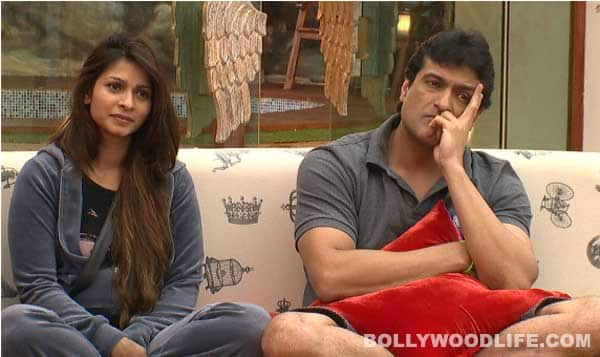 It seems that the two lovebirds of the glass walled house are on the verge of breaking up
Tanishaa Mukherji and Armaan Kohli's chemistry inside the Bigg Boss 7 house has become the talk of the nation. The two lovebirds have had their share of love and fights like every ordinary couple. But now it looks like this jodi is on the verge of breaking up, especially after yesterday's luxury budget task – Kabhi haan, kabhi naa. Yes, you heard it right.
During the course of the task, the housemates are divided into two teams – the hukumat team comprising of Ajaz Khan, VJ Andy, Sangram Singh, Sofia Hayat and Tanishaa Mukherji, and the virodhi team comprising of Armaan Kohli, Gauahar Khan, Kamya Punjabi and Kushal Tandon. As a part of the task, the hukumat team has to give the virodhi team various tasks throughout the day, to which if the virodhi team says 'no', the hukumat team will earn a point.
As you know, the contestants inside the glass walled house always get personal and go overboard while doing any task. So Ajaz, VJ Andy, Sangram Singh, Sofia and Tanishaa decided to go over the top and asked the virodhi team to do things which were humanly impossible. Now all this didn't go down well with the angry young man Armaan and he was seen venting out his anger on hukumat team which also includes Tanishaa.
Armaan was seen saying nasty things to Tanishaa, which irked her and she decided to not to talk to Armaan. That's not all. Tanishaa who has been sleeping on the bed besides Armaan, decided to change her bed. On the other hand, Armaan has been upset with Tanishaa for quite some time, as she is getting over friendly with Ajaz.
With so much tension between the two lovebirds, looks like they are going to part ways very soon. So will Armaan leave Tanishaa and go back to his girlfriend Tanya Singh? Or like always, will Tanishaa apologise to Armaan and sort things out? Well, all we can do is just wait and watch, hai na?