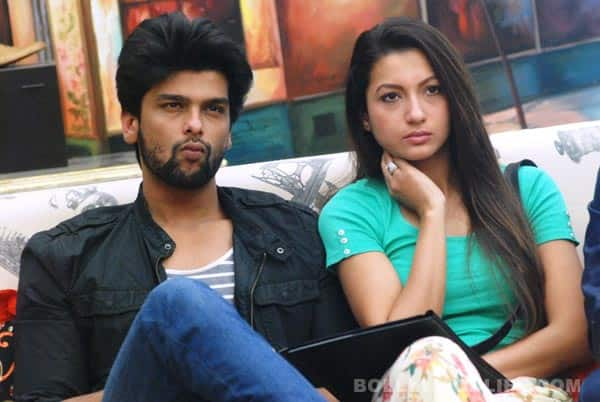 The two lovebirds are taking great pains to make sure that Tanishaa is kicked out from the competition
Only two weeks are left for the Bigg Boss 7 Grand Finale and the competition is thick and stiff.The temperatures inside the glass walled house are rising, all thanks to the growing differences and egos clashes with every passing day.
Tonight's episode of Bigg Boss 7 will mark day 2 of the 'Ticket To Finale' task, where Armaan Kohli, Kushal Tandon and Gauahar Khan are twiddling their thumbs having been knocked out from the running to being a part of the Bigg Boss 7 Grand Finale. In an attempt to find a winner, Bigg Boss will announce the Rajneeti task as the fourth leg of the task where Sangram Singh, Tanishaa Mukherji, Kamya Punjabi, VJ Andy and Ajaz Khan will be asked to be the leaders. They are required to influence and gain the support of the the followers – Gauahar, Kushal and Armaan, who have a neutral stand.
As expected, Tanishaa, will refuse to participate in the task because of Gauahar and Kushal's involvement in it. She will be spotted telling Andy, that nothing is bigger than her self-respect and she will not do the tasks where she is required to have a direct conversation with the couple. Tanisha will also add, that it is a big deal for her to even be staying under the same roof as Kushal and Gauahar. Later, when Kushal will enter the room while Tanishaa and Armaan are having a conversation, Tanishaa will walk off and refuse to have any conversation in Kushal's presence. On the other hand, Gauahar and Kushal will also be seen making plans to knock out Tanishaa from the Rajneeti task because of her cunning behaviour.
Will Gauahar and Kushal be successful in their plans? Let's wait and watch!